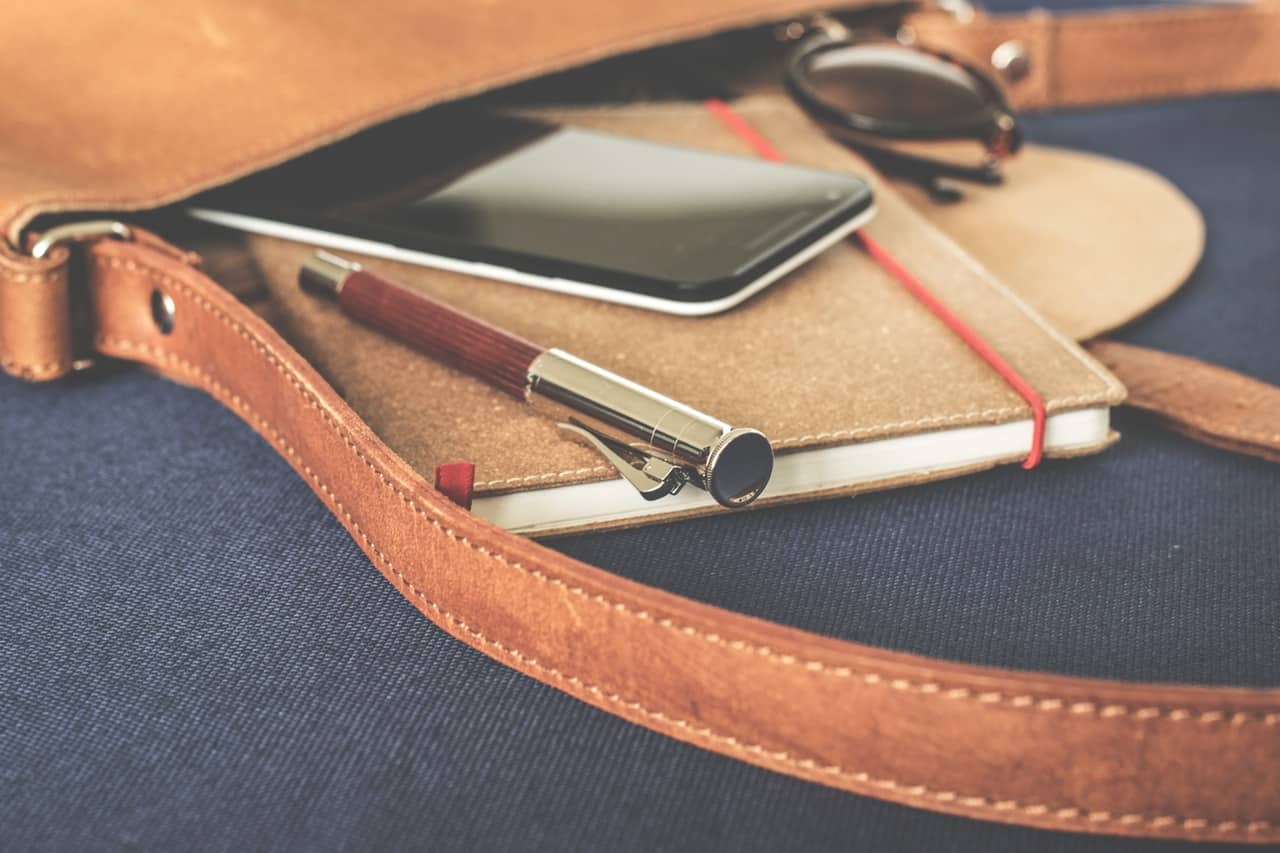 If you've been following me for a while, you probably know how can be Instagram effective marketing channel.
If you're here for the first time, I'd recommend reading the first part of this series – How to get 100 Instagram Followers in 24 hours and the second part, How we've grown to 52,129 Instagram followers in less than 8 months.
A few months ago, WeekHack had 1,000 Instagram followers.
In less than 8 months, we've grown to 54,000 followers.

Whether you're looking for a way to grow your audience, engage with your audience or get traffic to your product, service, or affiliate offer, Instagram is one of the best places to go.
But growing our page and engaging with my followers would be impossible without automation. I can't imagine doing it manually.
Let me ask you a question…
Do you want to manage your Instagram account more efficiently?
Wondering which Instagram tools and apps will help you to stand out and be more effective?
I guess so…
Let's start with Instagram scheduling tools.
3 Best Time-Saving Instagram Scheduling Tools
Instamate – This tool is created by Luke Maguire and allows you to schedule unlimited photos/images on Instagram in advance without using your smartphone. If you need to find trending Hashtags, Instamate will help you with that as well. I've been using Instamate personally from the day it was released.

Key features:
Schedule unlimited photos/images from your PC
Discover trending hashtags and trending posts with one click
Find copyright-free images
You can use it on three accounts without paying monthly fees
Price: $47
---
Grum – One of the biggest frustrations for Instagram users is not being able to schedule their posts in advance like on other Social Media sites like Facebook, Twitter or Pinterest.
That means many people believe that the only way to post an image on Instagram is through their Smartphone.
Grum is very popular and one of the few tools that enable you to schedule unlimited posts automatically from your desktop PC.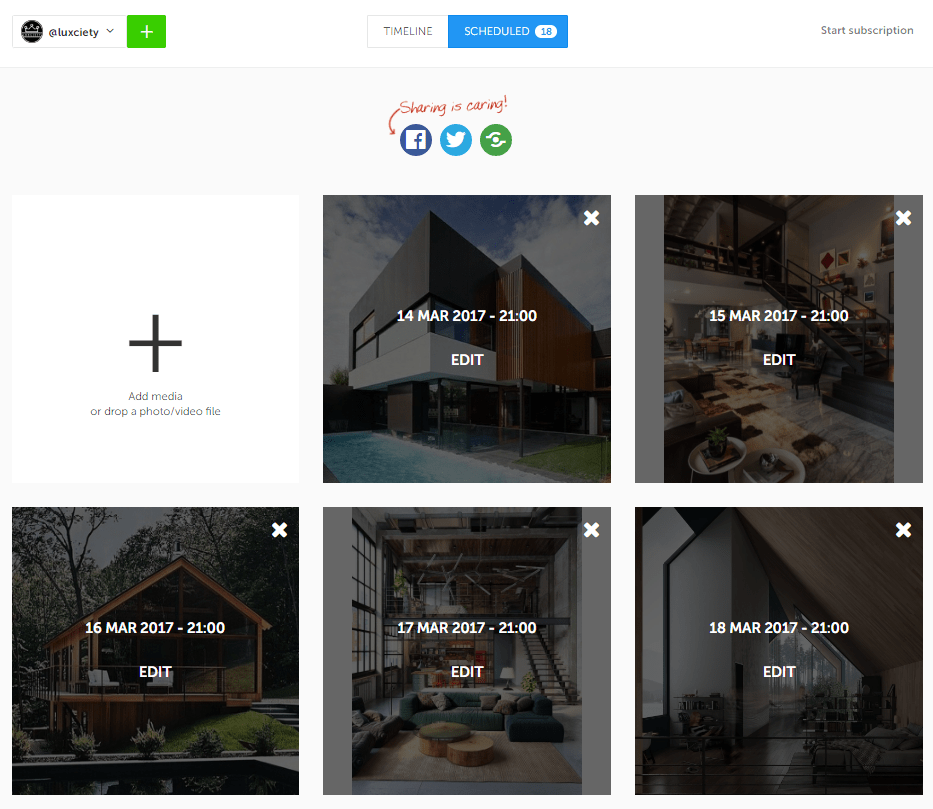 As a bonus, you can schedule first comment under your upcoming image as well. (This feature is great for posting hashtags in your first comment, not in the caption of your post.)
Key features:
Schedule unlimited images
Post a comment under your images/photos
It works on PC
Pricing: $10/month per two accounts
---
Repost – Creating content for your Instagram and Social Media account can be extremely time-consuming and I'm sure you don't want to find free time in your busy schedule all the time.
Once this situation happens, Repost is definitely going to be your best friend. Repost app enables reposting other's people stuff with a single click… And the best part? It will give them credit as well.
Key features:
Bookmark favorite photos and save them for later use.
One tap repost – Repost and credit the author with a single click.
Pricing: FREE
3 Must-Have Instagram Marketing Tools For Rapid Growth
Let's continue with special tools build for the purposes of growing audience, engaging with your followers and building relationship with them.
Mass Planner – I had been using more than ten different Instagram tools before I discovered Mass Planner. This computer program is a game changer! It replaced more than five different tools and saved me more than $75 every month!
Mass Planner is a social media managing tool that enables you to manage Facebook accounts, Google+, Twitter, Pinterest, LinkedIn and of course, Instagram accounts!
No matter what automation on Instagram (and other Social Media) you're looking for, you'll find it inside. And if not – contact the support, they're working hard every day to make the software better! It allows you to follow/unfollow people based on many different aspects, like their photos, comment on their pictures and even send them direct messages!
It's my #1 all-in-one tool, and if you're serious about building a presence on Instagram and growing your following, you should check this out, because there's no other tool as cheap as Mass Planner with at least 50% functions.
Key features:
Extremely detailed possibility follow/unfollow people (based on hashtags, followers of a certain account, people followed by a certain account and much more – there's almost endless number of possibilities how to target your users)
Like photos (the same targeting options as above)
Use unlimited Instagram accounts and other Social Media accounts from one Mass Planner account! (This is my favorite!)
Send automated direct messages to your followers.
Send direct messages to certain group of people
Choose the precise number of likes, photos, comments or direct messages you want to send per day (you can even stop Mass Planner for certain days or certain hours)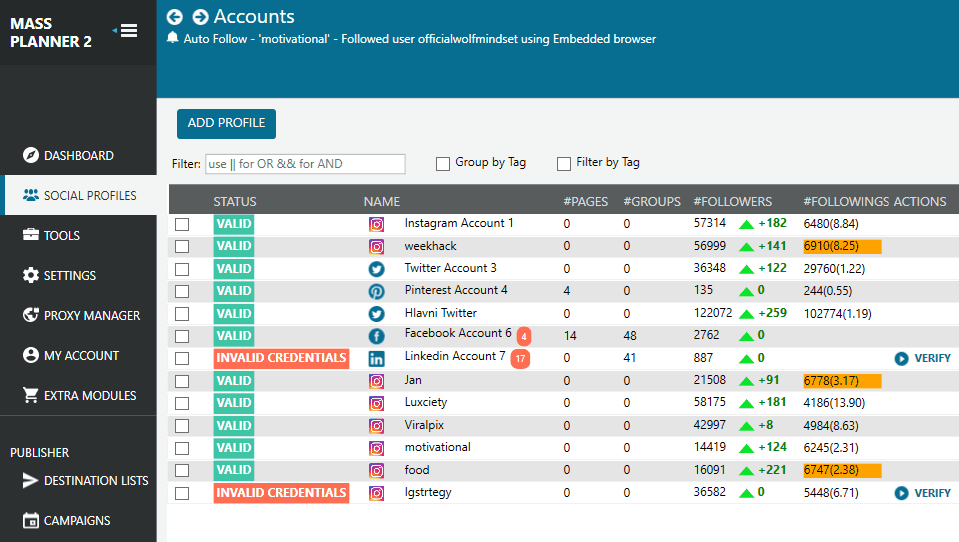 Pricing: $10/month
Cons: It's PC software, to get Mass Planner running, your PC must be on.
---
Instaeasy – Another great web-based app created by Luke Maguire. The purpose of this app is to grow your Instagram following rapidly and engage with your potential audience.
It allows you like photos based on your settings, follow/unfollow certain groups of people based on many different settings.
Instaeasy offers a unique IP address per Instagram account to be sure you're safe.
You can choose from four different speeds. If your account is a few days old, choose beginner speed (436 follows / 432 likes per day) and slowly move on a faster speed.
Key features:
Very own IP address for each account
4 different speeds to choose from
Web-based software
Automate your marketing 24/7
Easy to set up and use
Pricing: $47/month
---
Instagress – Instagress is one the programs or apps that run your Instagram 24/7 on autopilot. You can follow and unfollow people, like their pictures and even comment on their posts without being online or spend a lot of time on Instagram (we should do some better things than spending hours per day on Social Media, right?)

This tool allows you to do all mentioned tasks in three different speeds. If your account is a few days old – you don't want to follow hundreds of people right of the bat. So you should initially start with slow speed, after a few days or weeks, move to medium, and eventually to high.
Key features:
Follow/Unfollow certain people
Like images based on hashtags, followers of a target accounts, and much more targeting options
Three different speeds to protect your account against violating Instagram's rules
Pricing: $10/months per ONE account
Cons: If you have or want to have more accounts, you'll be paying a lot of money
4 Instagram Tools to Create, Manage, and Analyze Your Marketing
Iconosquare – Are you serious about building an online presence and growing your Instagram account? If so, one of the most important things is to analyze every step on your way. If you don't measure the result, you can't improve. Quite obvious, right?
Iconosquare is probably the most advanced analytics tool for Instagram.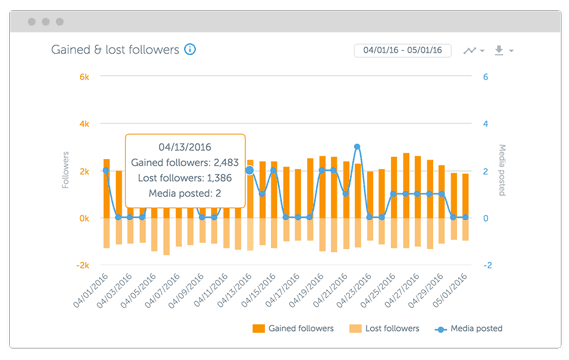 Key features:
Measure your followers growth
Visualize daily gained & lost followers.
Discover the location of your followers.
Visualize how your posts are performing in real–time and compare with previous ones.
Measure the number of likes and comments received.
See how the filters and hashtags you use influence engagement. ( this is my favorite!)
Find out your most engaging pictures.
Discover the best time to post to get your post seen by most people.
Track any hashtag(s) performance.
Track up to 7 of your competitors.
Pricing: $54/year or $9/month
---
Instagram Business Account – You're right, this is not a tool. This is a feature from Instagram. If you do not want to pay for analytics like Iconosquare, you can (and should) set up a business account.
Now, if you switched to the business account, you can see how much impressions your post received during the last seven days. How many people visited your website through Instagram, the demography of your followers and a few other things.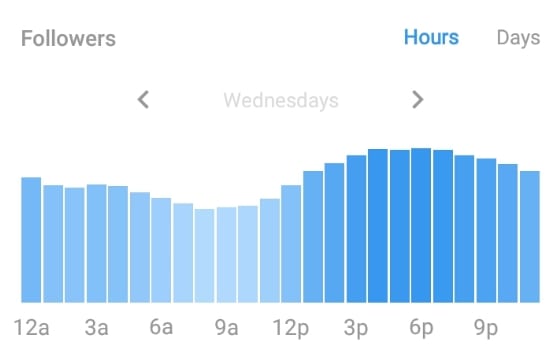 Key features:
It's free.
It allows you to see when your followers are online.
Detailed demography of your followers.
Statistics about your images (impressions).
Pricing: FREE
---
Onlypult – Being up to date with your marketing efforts is critical. Marketing trends are changing almost as often as our jeans. We should take a look at what our competitors do regularly. Onlypult allows you to sneak out on your competitors and see how their posts performed.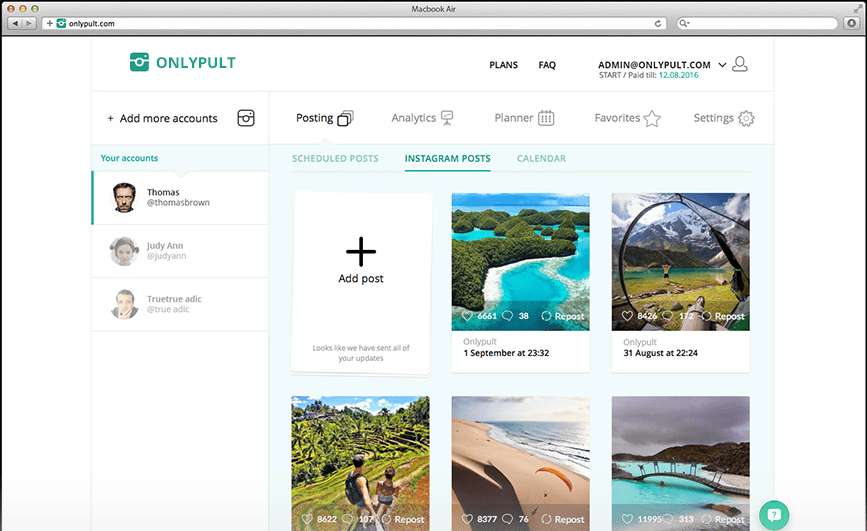 Key features:
See how the images of your competitors perform
Repost content with one click
See basic analytics of your account
Schedule your posts
Pricing: $12/month per three accounts
---
Social Rank – Not all your followers are equal. Some of them give you follow and never come back to you, some of them engage with you every once in a while and some of them become lifers (people who love your content, love what you do, and engage with almost every content you post).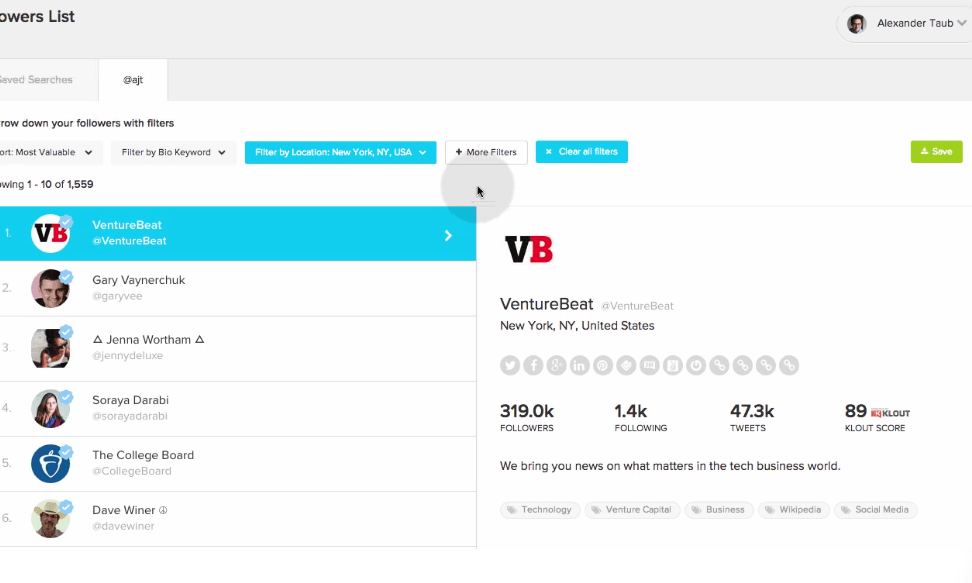 Secondly, you want to connect with influencers who can help you get more exposure.
Social Rank helps you identify most valuable followers, brand advocates, and influencers.
Obviously, it is important to build relationship primarily with those people. They're more likely to become your visitors and customers.
Key features:
Filter and sort your followers
Connect multiple accounts
View full follower profile
Pricing: Basic account is FREE
4 Free Tools for Creating Awesome Instagram Images
Once upon a time, I thought about posting and creating images on Instagram as something extremely time-consuming and to be honest, totally annoying…
As it turns out, I couldn't be more wrong. Thanks to the tools mentioned below, it takes only a few minutes to create beautiful pictures for your profile.
WordSwag – App for iPhone and Android. Very easy to use, a lot of high-quality backgrounds, sayings, and stock photos.
This app even offers a lot of quotes you can use right off the bat if you don't have inspiration for your own.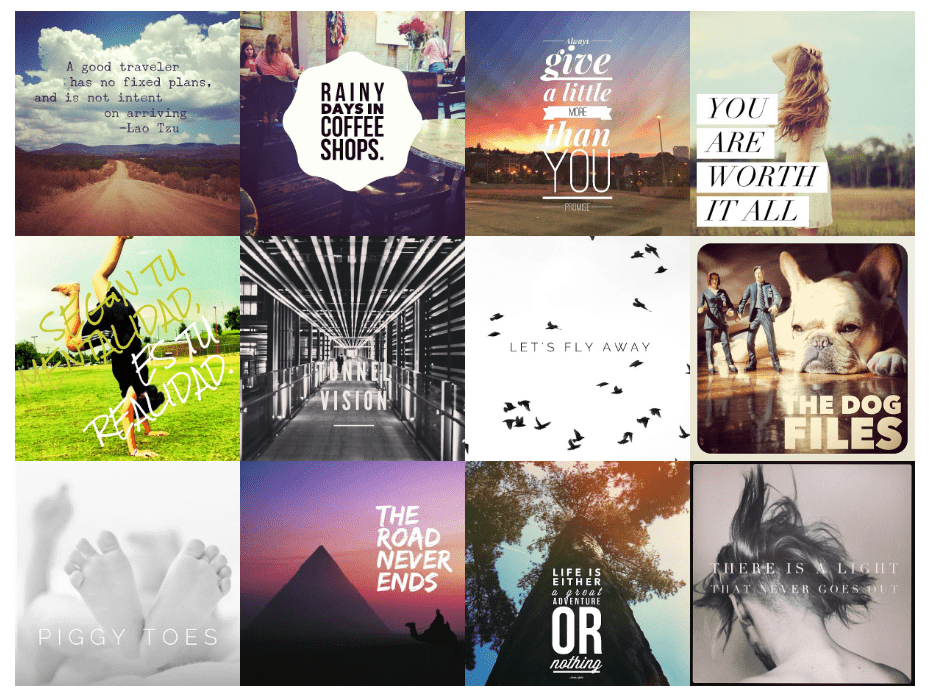 The alternative is Typorama.
Pricing: FREE
---
Instaquote – With Instaquote, you can choose from 50 different fonts, choose a background from high-quality collections, and customize your words (font size, color, position & line spacing).
Pricing: Free for PC
---
Canva – Canva is a free design tool aimed at beginners and professionals who don't want to spend a lot of time on Social Media design. It's a web-based app, and you can create images for all Social Media sites.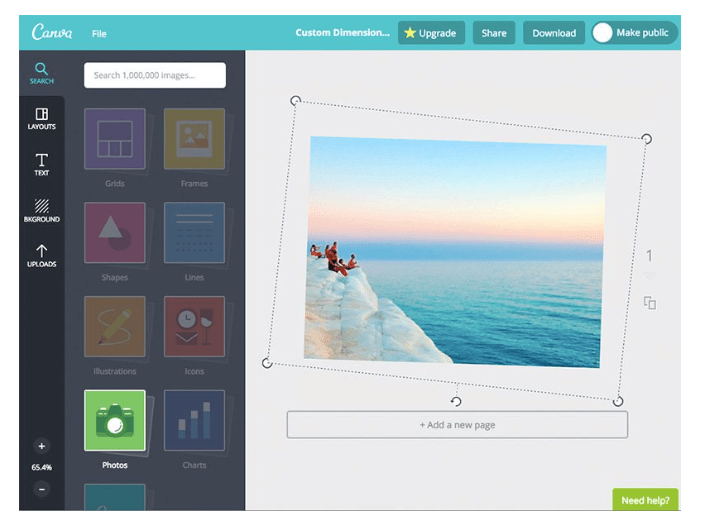 Pricing: FREE
---
Recite this – Offers professionally looking templates for your Social Media graphics. Enter your quote, select a template, and you're done.
Pricing: FREE
---
Instagram can be a huge asset in building an online audience, connecting with your ideal followers and building an email list.
But, without the right tools, it can be very frustrating and time-consuming. And, as you know, the purpose of starting an online business isn't to spend all day on Social Media.
These Instagram tools will help you schedule your images in advance, grow your audience, engage with them, help you to understand what their needs are and enable you to automate your Instagram marketing 24/7.