If you read blogs about business or listen to business/marketing related podcasts, I bet you noticed that everyone says:
Money is in the list
You should start growing an email list since day one
Every business should collect email addresses of potential readers/customers
I wish I would have started my email list earlier
Etc…
Here's what Pat Flynn and Jon Acuff say:
Pat Flynn (75,000 subscribers): "When I started this blog, I made the newbie mistake of not including a way to accumulate email addresses. No newsletter, no opt-in form – nothing."
Jon Acuff (100,000 subscribers): "The biggest social media mistake I've ever made. Email matters. People don't change their email addresses. Facebook, Twitter, Google+, people join and drop that pretty often. But changing your email address is a hassle."
We know that we heard that many, many times.
The common scenario is that people work as hard as they can to get their first hundred or thousands of visitors, but after that – you find out that nothing happened.
No sales, no customers, no revenue…
You worked hard without any meaningful results and you get discouraged.
That's why it is extremely important to have strategies in place to turn those visitors into subscribers before you start driving traffic to your website.
So, how do we actually convert heavily gained website visitors into email subscribers?
In this case study, I'm going to show you how I turned a single blog post that got 9754 visitors into 817 email subscribers using three simple strategies.
Free Checklist
: 11 most effective list building strategies you can use today!
Strategy #1: Content Upgrade (inside the post)
I have learned about content upgrades from Mariah Coz and Bryan Harris.
When it comes to growing an email list from my blog, content upgrades are the most effective method ever.
Content upgrade is some kind of bonus content you offer inside your blog post in exchange for your reader's email address.
Content upgrade can help your readers to achieve even better results or provide a shortcut.
If you go through this blog, you'll find out that every article offers some kind of content upgrade.
Here's a list of great examples of content upgrades ideas:
Checklist
PDF copy of the article
Spreadsheet with certain data
Bonus strategy
Free email course (video course)
Discount
In the article – How to get 100 Instagram Followers in 24 Hours I have been offering as a content upgrade a bonus strategy on how to grow your followers, PDF copy of the post and the tools I use.

I incorporated this blue box with the content upgrade at the top and at the bottom of the article. You can put it in the middle as well.
This article already received 9754 visitors.

As you can see 694 of those visitors clicked on the link inside the blue box and 446 subscribed to my email list just through this content upgrade.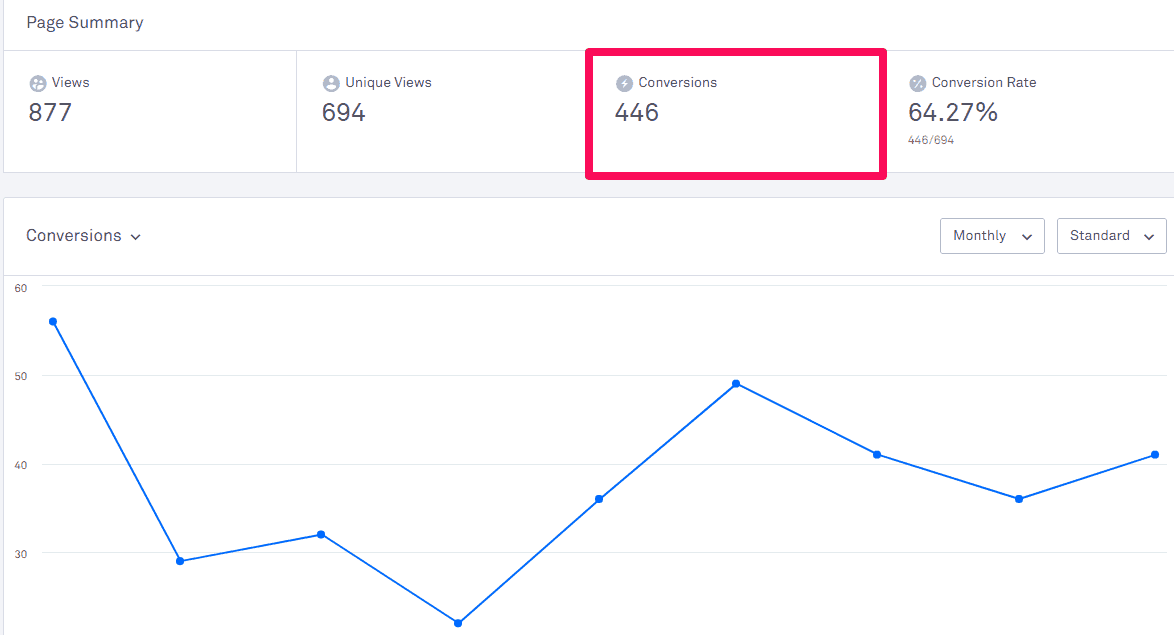 Out of the 9754 people that read the blog post, 446 converted into email subscribers. That's 4,6% conversion rate.
These upgrades work well because they are super specific and relevant. They provide an even better solution. They provide a shortcut for your visitors.
When you are about to write another blog post, think about how you can help your readers even more and incorporate a content upgrade in each blog post.
If you can't brainstorm any bonus at all, turn your article into a PDF and offer the PDF download in exchange for an email address.
Another example is this article.
I cover three different strategies how to turn blog readers into email subscribers and as a content upgrade, I offer List building checklist with 11 different strategies to grow your email list.

As you can see, it's highly relevant and helpful for everyone who wants to grow their email list.
Action Step #1: You can use this WordPress plugin to create these beautiful boxes inside your blog post that encourage readers to subscribe to your email list.

Action Step #2: Use LeadPages or similar software to create 2-step optin boxes.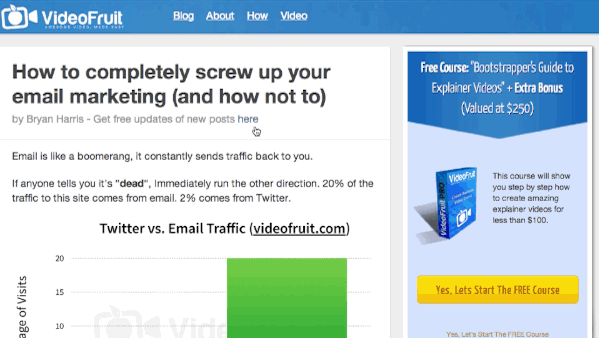 (LeadPages are a little bit pricey but, without a doubt, the best software I've found to create Leadboxes, Lead capture pages, Webinar pages, etc…)
Takeaway: Insert visible boxes with a call to action at least on the top and on the bottom of your article. Make sure you provide 2-step opt-in option. It converts much higher than if you redirect your readers to a landing page.
Strategy #2: Exit Intent Pop-up
I guess you noticed that every time you try to leave my website (your cursor leaves the page) – the pop-up appears.
It looks like this: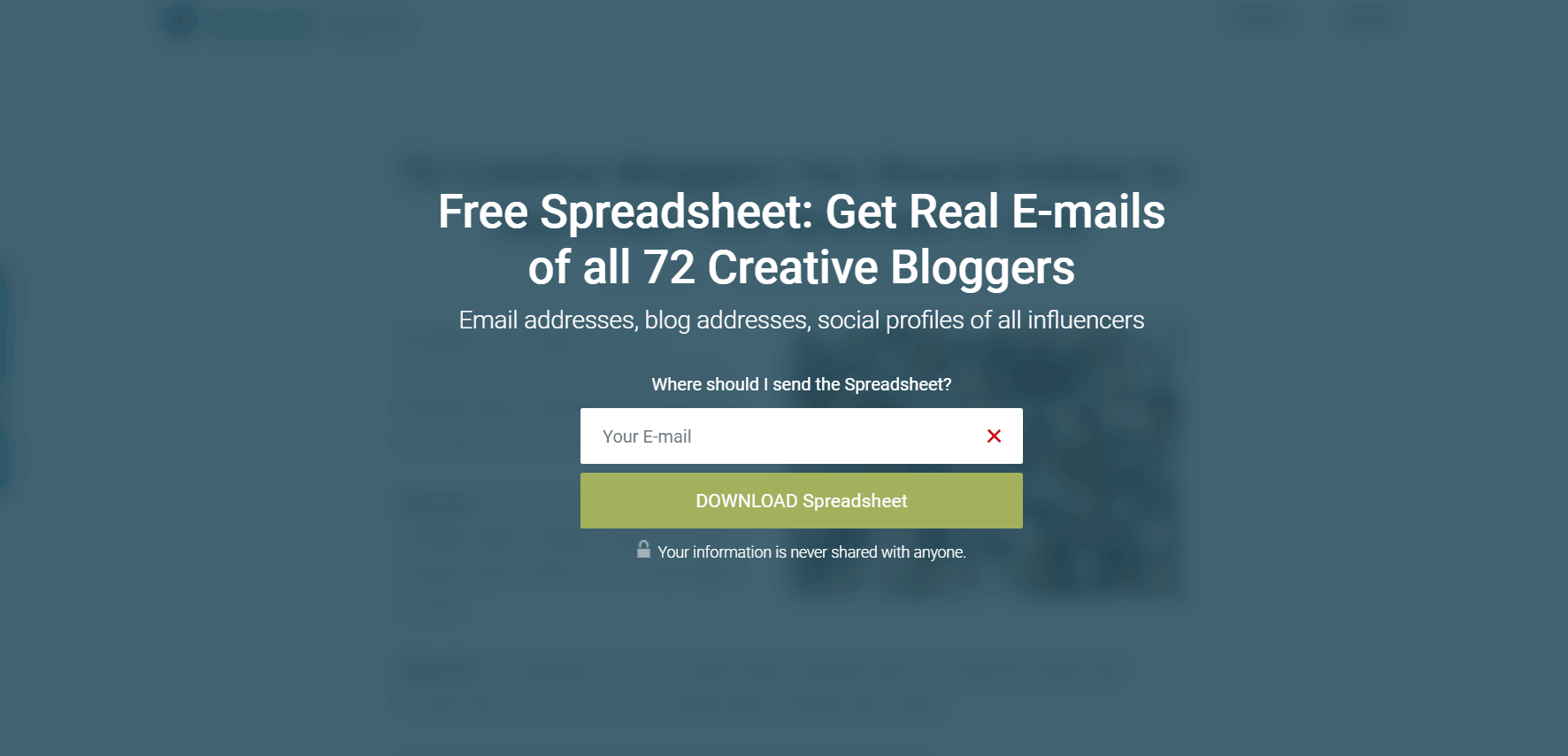 This is called exit intent pop-up.
It works like this:
Someone visits your blog and start reading an article
After a while, they decide to leave your website
The cursor of their mouse leave your blog and getting closer to the close button in their internet explorer
The pop-up software installed on a website recognize that they want to leave
It then show them a pop-up giving them a chance to sign up for a bonus content in exchange for their email address
Boom! You have a new subscriber 😉
There are many different apps that recognize when your visitors want to leave your website and allow you to set up exit intent pop-up.
The specific exit intent pop-up in this post is created using a web-based app called ConvertBox.
Another great plugin for all kinds of pop-ups, welcome gates, scroll boxes, etc.. is ListBuilder by Sumo – you can use this plugin for free…
Step #1: Go to sumo.com, register a free account and add your website
Step #2: Click 'Forms' and 'ListBuilder' and activate ListBuilder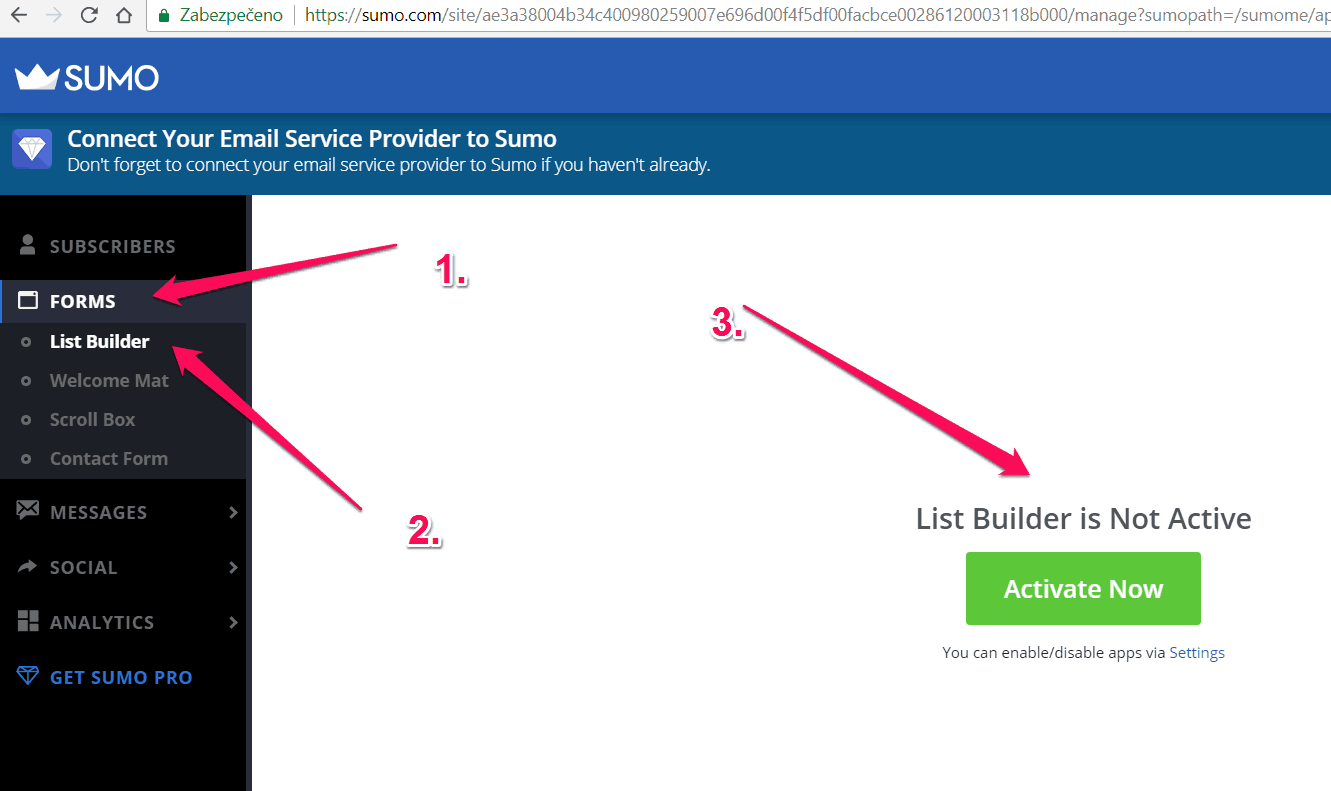 Step #3: Follow the steps, choose a design for your first pop-up and you are done.
Sumo.com enables you to set up much more than just a pop-up to grow your email list.
You can use scroll box, welcome mat, sharing app, etc… Just explore all the apps that sumo provides.
Getting back to my post about Instagram Marketing that so far generated 817 email subscribers.
As you can see below, the pop-up on the post was displayed 3450x times.

227 people subscribed to my email list.
That's 6,58% overall conversion just from the exit intent pop-up – not bad.
Needless to say, I offer the same content upgrade in the pop-up as in the post. No need to create a different bonus.
Takeaway: Make the exit intent pop-up specific to each post. This should boost your opt-in rate to 5-6%.
Make sure that your pop-up appears only to people who want to leave your website (exit intent pop-up).
I bet you've seen the kind of pop-ups that appear immediately after you visit someone's website – so you know how extremely annoying it is.
Strategy #3: By-line opt-in form
This is one of the most overlooked list-building techniques ever.
Even though there are only a few people who are using it, it's definitely worth your time. It's the kind of strategy that you set up once and it works for years.
So, what is a by-line opt-in form?
It's the line under you headline that says who is the author of the post.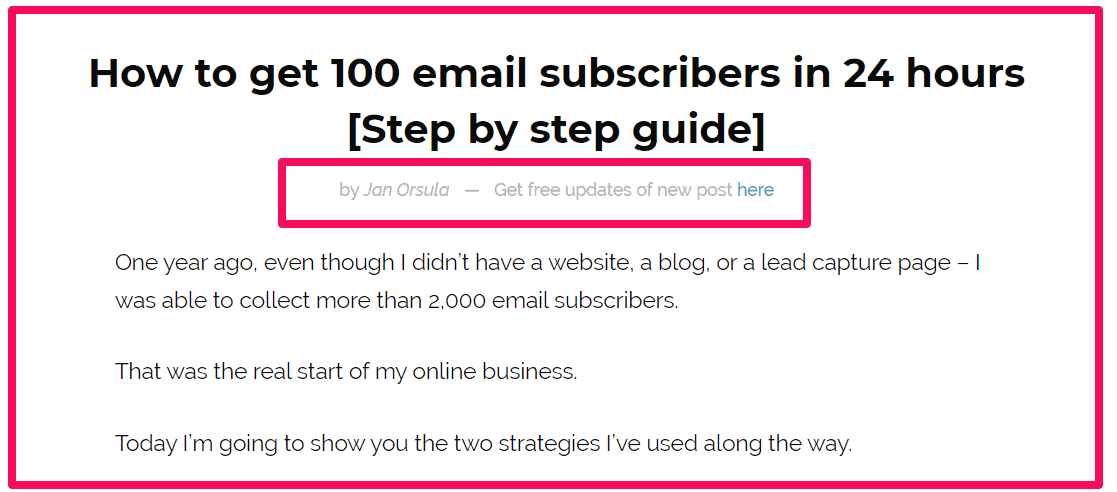 I have been using this strategy since I started this blog.
You can tie the link to Leadboxes by LeadPages. When you click the link, the pop-up will appear and ask for an email address.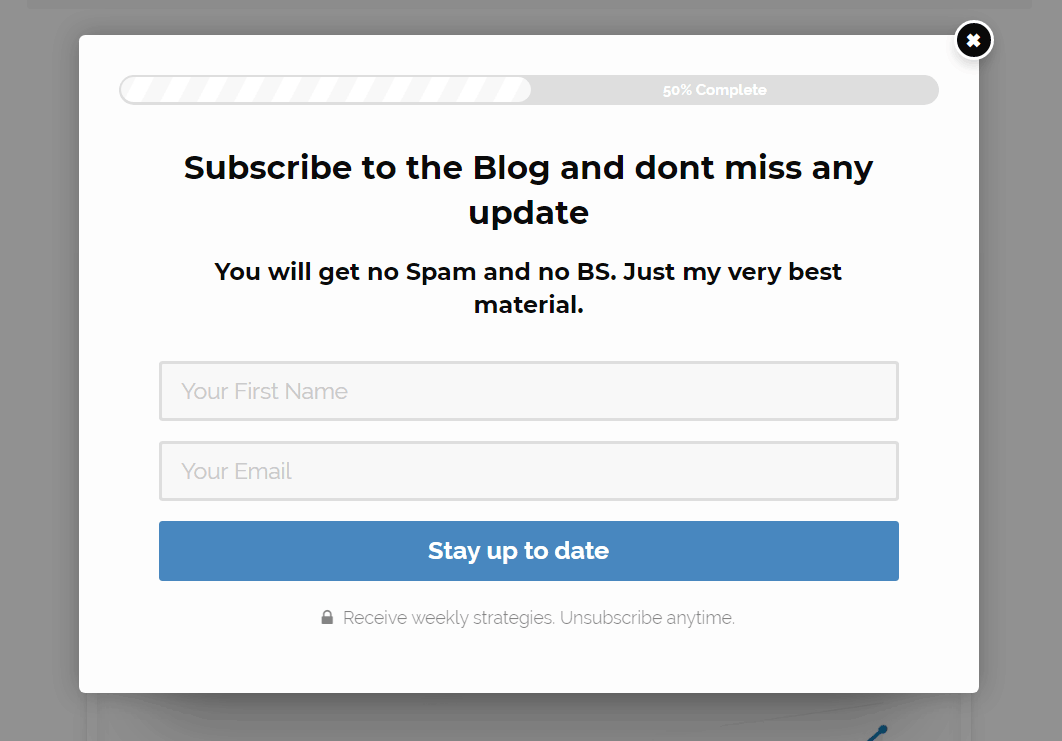 As I mentioned, this strategy works for all of your blog posts and after you set it up – it costs you zero time to manage.
Try it.
I've collected 144 email addresses though by-line opt-in form in the last 120 days (1.4% email conversion rate.)
Conclusion
Email subscribers are the lifeblood of every kind of business.
Not focusing on growing your email list is the biggest mistake you can make.
I showed you three different (and simple) techniques that so far generated 652 e-mail subscribers from a SINGLE blog post.
Replicate them, use them for your own gain. It's not a rocket science.
But in order to collect email subscribers using these simple techniques, you need to get a steady stream of traffic coming to your site.
Without a traffic, you get zero subscribers = zero customers.
But how do you actually attract those visitors to your site?
I've written a series of blog posts where I teach you the exact steps to get 1,000 visitors every time you publish a new piece of content.
Lesson #1: How to Get 1,000 People to Read Your Next Blog Post
Lesson #2: The Fool-Proof Way To Drive Website Traffic (Step by Step Guide)
Now you have a proven plan to get loads of free traffic and strategies to turn those visitors into email subscribers.
Free Checklist
: 11 most effective list building strategies you can use today!
Action Step #1: Create a bonus content (content upgrade) for 10 most popular articles on your site and offer it inside your posts in exchange for an email address
Action Step #2: Sign up for ConvertBox or List Builder and set up your first exit intent pop-up (offer the same bonus content as in your content upgrade)
Action Step #3: Create an author byline that enables your readers to sign up for updates