The internet allows us to do many things. It lets us communicate with our friends and family anytime and anywhere, we can find almost every piece of information we need within seconds, and we can make a decent living by working on it.
There are plenty of ways to make a profit online. For example, freelance jobs can be very fruitful. Elearning is a big field, too, with experts expecting it to grow to $325 billion by 2021.
But the one we'll be covering today is eCommerce. At this point, it's pretty redundant to say that the eCommerce industry is big, but many still fail to see just how big it is. It's huge—the eCommerce market is expected to reach $6.54 trillion by 2022.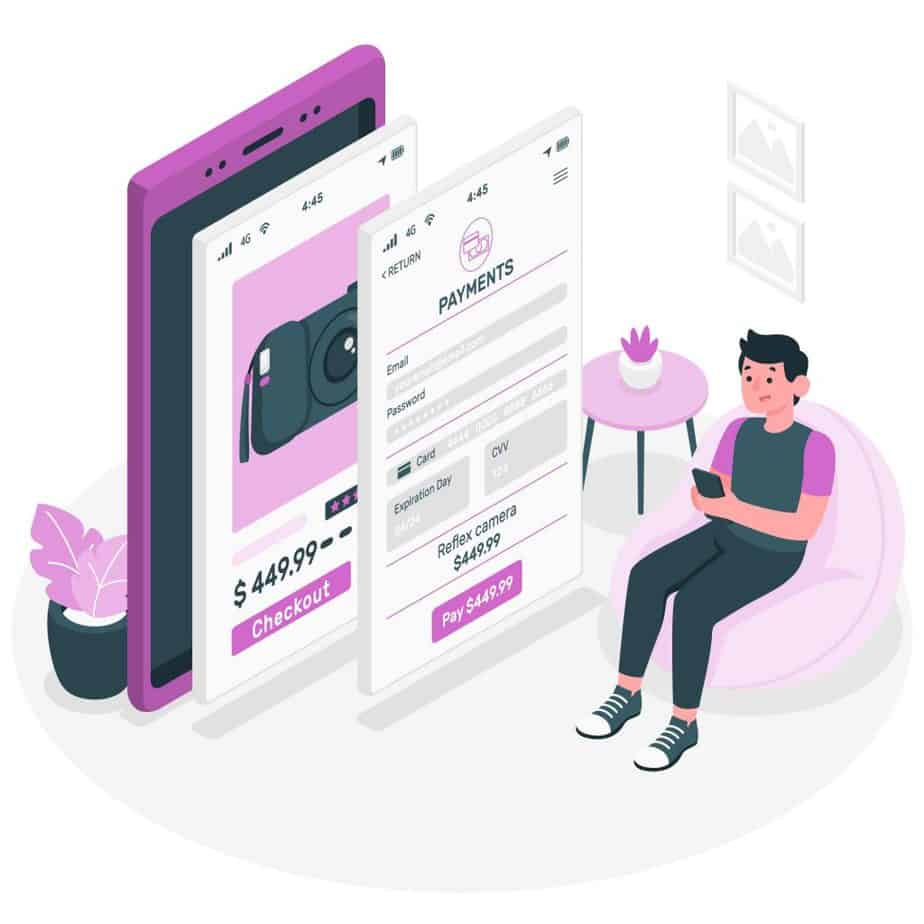 Chances are you'll get a slice of the pie. But since anyone can give it a shot, starting an eCommerce business isn't exactly easy. There are steps you need to take to ensure that you don't fall flat on your face.
Luckily for you, those steps are exactly what you'll learn about here. We'll go through everything you need to do to have your eCommerce business up and running the best way possible. Think of it as a guide on how to lay the groundwork for a killer online store.
So let's get to it.
Think About What You Want to Sell
Before you start taking action, the first thing you need to do is decide on what product you want to sell. How well you plan out your ideal product will massively impact how well you'll execute everything else.
To that end, you'll really want to think about what your product will be.
How to Find the Right Product
One of the first things you need to consider is how relevant your product is. In other words, you ought to choose something that only you can offer. After all, competition is beyond fierce in the eCommerce world. To truly stand out, you need to give people something they need.
This "need" is what is commonly referred to as a pain point. One of the best ways to be successful as a seller is to provide something that customers need but can't get anywhere else.
This means that you should sit down and think about what you can do. Put yourself in the customer's shoes and try to see their way: what could make their lives easier?
Obviously, all of this is a little too general. That's why the smartest way to go about finding a pain point is to specify a niche you will cater to. Ideally, you'll want to go with something you are passionate about at least to a degree.
That will ensure that you know a thing or two about the product you're selling, as well as the community interested in it. Not only that, but you'll likely be aware of the emerging trends in that field, which you can capitalize on. This is, luckily, easy enough to do nowadays with tons of subreddits, social listings, and more to keep tabs on the target niche.
Stick to Selling Just One Product
More likely than not, you will end up with more than one product that fits the criteria mentioned above. You might be tempted to sell all of them at once. That would be a bad idea. Instead, sell only one product for starters and expand after you've gained a foothold in the market.
Branching out into multiple different markets only means more research on your part, not to mention more investments and an increased risk of your business flopping. While Amazon can get away with selling everything under the sun, the chances are that you don't have access to that kind of funds.
There's also the fact that it's easier to become familiar with one product than a whole slew of them. As a seller, you should know the ins and outs of the item you have in stock. That way, you can provide a reliable customer support system, since you'll know the most common defects and errors, as well as how to address them.
Having only one product to sell also makes it easier to find suitable vendors. Since you want the best balance between quality and price, this won't be exactly easy to do. But you can imagine how harder it would be if you had multiple products on your plate.
Cook up a Business Model
Once you have a viable idea of what you want to sell, you should look into how you'll be selling it. To put it another way, you need to define a business model that best complements the product you intend to sell.
Now, the kind of eCommerce shop you run can vary based on what you want to sell and how you want to manage your business. Nevertheless, it will largely boil down to one of a few models that are pretty standard nowadays.
It's recommended that you do some in-depth research into eCommerce business models. Since this is more of a general guide, we won't go into great detail here. All the same, we can at least point you to a model that might suit your fancy. So here are some ideas for you.
Common Models for an Ecommerce Business
B2B: These usually have client longevity in mind, since businesses tend to stick to a supplier they like. Beyond that, businesses are fans of data and demonstrable benefits/results. Show them you're the best, most affordable alternative, and they'll stick around for a long time.
B2C: Regular people's relationship with an ecommerce business is far less linear. They'll buy things on a whim and not come back for a while. While a little rocky in terms of longevity, getting people to buy something takes a bit less effort than selling to businesses that tend to do extensive research before making a decision.
C2C: If you're more inclined to make a website where customers can sell to one another (like eBay), you can do so with relative ease, given that you don't need to stock up on a particular product. C2C also works great with specific communities passionate about a particular niche, from baseball cards to motorcycles.
Warehousing: This one is pretty front-loaded in terms of financial investment since you have to start with a large supply of whatever you're selling. You also need to stock up, take inventory, track orders and shipments, and more. It's a lot of spending, but warehousing lets you work with vast quantities of your product.
Subscriptions: Having a base of subscribers translates into a steady income, which is great for your financial stability. On the other hand, subscription-based businesses often deal with relatively small communities.
Private labeling: You can come up with the plan for a product and hand it to a manufacturer to create it for you. Besides being easy on the budget from the start, you always have the option of changing manufacturers you aren't happy with.
Every business model has something to offer you. The question is which one can give you the best return on investment.
Build a Strong Brand Image
While few people can define what a brand is, it's definitely something with a tangible impact. It affects how the world perceives a company—to whom it appeals, how it treats its customers, how seriously it takes itself and its mission, and much more.
As an eCommerce business, people have to trust you before they decide to do business with you. To do that, they have to know who you are. That's what a brand image is for.
Creating a consistent brand isn't exactly easy. It entails bringing together everything about your business, from social media posts to the layout of your website. Not only that, but there's the matter of actually knowing what your brand is, which is often trickier than you may believe.
Branding gurus recommend reflecting on your core values and those of your target demographic. Nine times out of ten, it's strong beliefs and desires that give a brand its spice. Those that chase an easy profit tend to have a weak brand image, which is why they don't last long in the business.
Set Your Budget for your Ecommerce Business
Most of the things mentioned above don't necessarily involve a lot of money. But everything afterward does.
That's why you should assess the budget you'll need, as well as all expenses. This means accounting for product sourcing, staff, logistics, marketing, and more.
Once you have a good grasp on your budget, it's time to start spending it wisely.
Create the Actual Store
Finally, we've got to the store itself. Now it's time to put effort into creating it.
Registration and Licencing
The first step should be to register your business. There's a ton of benefits to doing that, most of them of legal nature. From tax breaks, protection, and personal liability to getting bank credit quicker and easier, registering your business is a no-brainer. Make sure to take out an Employer Identification Number (EIN), too.
To register your company, though, you need to come up with a name for it. Ideally, you'll want to take the time to think about it, rather than naming your business in the spur of the moment. It should be something relevant to your niche and recognizable.
Aside from the name, getting a business license will be a must for you. Mind you, this isn't the same thing as a seller's fee, which you can get for free. That said, getting your business licensed can be a complicated mess due to overlapping regulations. It's always smart to consult as many experts as you can to get the licensing over with as soon as possible. On the upside, a permit for an online business can be pretty cheap, costing as little as $50.
Website Design
Before coding a website, you can think about colors and visuals. They should reflect the tone and intent of your business, and they ought to be consistent throughout your pages. You can always hire professional designers to do that for you, but there are plenty of online learning resources that you can use for free.
As far as the website layout is concerned, there are honestly so many tips that listing them here is a fool's errand. Needless to say that there are many articles about eCommerce web design online.
Beyond that, there are always CMS themes that implement many of those tricks right out of the box. And in terms of CMS's (Content Management System), WordPress, Joomla, BigCommerce, Drupal, and Magento are some of the most popular picks. They all come with their own perks and pitfalls, so research them and see which one fits you best.
Two design points do deserve special mention: simplicity and scalability. The former will provide a great user experience while the latter enables your eCommerce company to grow as it takes on more traffic.
Marketing
No matter how much effort you put into it, nobody will magically know about your website. It needs a bit of a marketing push to gain some traction.
One of the most powerful marketing tools is emails, being both free to deploy and effective in high numbers. Before you even have your website up and running, you should have email templates already set up, from thank-yous to upselling and cart abandonment reminders.
When you start building a customer base, you can grow your email list and improve your marketing efforts. Growing your list can be done in a couple of ways. The two most common ones in e-commerce include social media campaigns like a giveaway that only asks for email addresses and opt-in freebies.
You might also want to consider running a blog on your website. It's a great way to increase traffic and boost your SEO. People can read your posts and share them, growing your customer base organically. With good SEO and backlinks, you can rank pretty high on SERPs.
You're Good to Go
With all pieces of advice mentioned above, you're set to run a stable eCommerce business. With a dash of luck and a lot of hard work, you might just own the next big thing in your niche. Good luck!