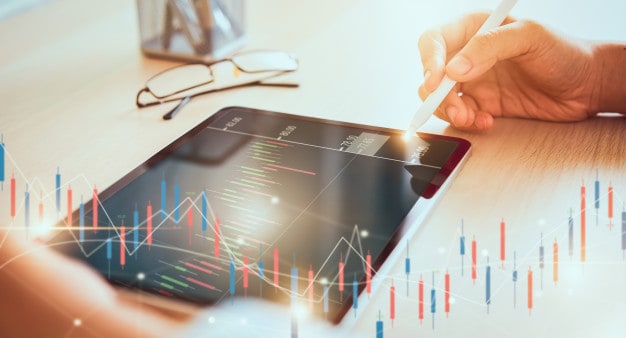 Selling online is easier than ever before. High-quality eCommerce platforms make it easy to set up a catalog and open shop. Beautiful websites are easy to create with simple-to-use templates. Sites like WordPress are user-friendly and let you pick and choose features to make your shop unique.
Whether you sell physical goods, services, or downloadables – there's a place for you in the world of eCommerce.
In October 2019, the US Dept. of Commerce released sales data showing that online retail sales accounted for over 60% of all retail growth! The days of needing a brick and mortar retail location are over.
Want to get the hashtag strategy that brings me 11,000 impressions per post?
Get The Ultimate Instagram Hashtags Cheatsheet
Download now!
50% Complete
Get The Ultimate Instagram Hashtags Cheatsheet
Attract the right people to your profile using Hashtags on Instagram
100% Privacy. We will never spam you.
100% Privacy. We will never spam you.
Ecommerce has provided a lot of opportunity for small business owners, especially those who work with dropshipping. By finding the right distributors and products that align with your goals, anybody can set up an online catalog. There is no need to invest huge amounts of money in inventory. Retailers are free to invest in effective marketing strategies and focus on sales.
With the right know-how and strategic investment, you can get started. It's easy to establish a solid brand identity, customer loyalty, and steady sales in a short amount of time.
What is one of the major factors in eCommerce success?
Effective marketing.
How do you make yourself and your store stand out from the millions of other online shops?
Increasingly, Instagram is becoming a fundamental tool for the online entrepreneur. It's free to get started and allows you to reach an international audience to offer your products. Having a high-quality Instagram feed is a key factor in the success of your online business.
So, how can you boost your eCommerce sales using Instagram?
First, A Word About Your Sales Funnel
By now, you've heard about the 'sales funnel' for online sales. The funnel is a visual image that represents the process of winning over clients. It is the process that a potential customer passes through before you make a sale.
At the top of the funnel, people are drawn in by curiosity about your brand. If you manage to keep their interest, they will continue seeking out your content. As they interact with your content they will hopefully be inspired to make the leap and make a purchase. This is the 'conversion rate' – how many of those curious people turn into paying customers.
Having a wide funnel is essential to increasing your conversion rate. The more people that you get interacting with your brand, the more sales you will get.
This is the key concept behind how Instagram works for boosting your eCommerce sales.
With Instagram, you have the potential to attract countless people into your sales funnel. This is why the popular social media platform should be a pillar in your marketing strategy.
How to Use Instagram to Boost eCommerce Sales
If you are new to Instagram (or just struggling to find your rhythm), follow these tips to maximize your success.
1. Be Consistent with Your Image
Instagram is visual. You need to be visually consistent with everything you publish on this platform.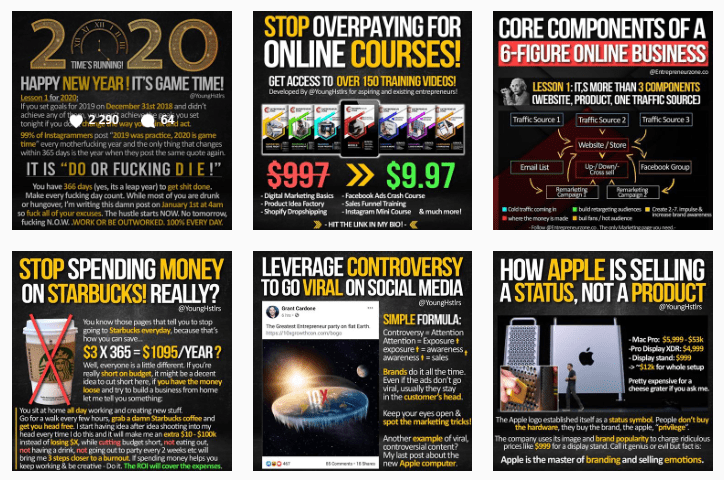 This means that you use the same fonts, color schemes, logos, and brand imaging that you use on your website. In fact, you should have continuity across all the social media platforms you are using.
This creates a sense of identity for your brand with potential consumers. Uniform imagery is reassuring. It is one of the easiest ways to build trust in your brand.
This trust is essential if you want to convert followers into clients.
Aside from being invariable in your branding, you need to be consistent in your visual style.
To be successful on Instagram, this is particularly important. On Instagram, you will primarily be sharing photos and videos. How do you create a brand identity through photography?
Keep these tips in mind:
Identify your brand's color scheme and use it throughout your photography.
If you are going to use a filter, find one and stick to it.
If you are not going to use a filter, use natural light.
Make sure your images are not too cluttered.
Do not over-edit your pictures.
Show the size of an object by placing a person in the photograph.
Use one style of photography that expresses the identity of your brand.
Create a solid brand identity on Instagram by using good photography practices. This will build trust with potential customers resulting in a boost to your eCommerce sales.
2. Know Your Audience and Create Relevant Content
For your efforts on Instagram to result in higher sales, you have to know exactly who your audience is. Don't make the mistake of posting content without having your target market in mind.
Over 1 billion people are using Instagram every month and more than 60% of them log in at least once a day. In the US alone, there are over 100 million active users.
For your posts to 'click' with an audience, you need to identify exactly who your target market is. Then, you need to learn how to get their attention.  Only then can you develop relevant content that is interesting to them.
Good content should be engaging, inspiring, and offer information that is of value to the people you want to reach.
How can you identify your target audience?
Identify your niche. What do you sell? Do you sell personalized gifts? Handmade goods? Digital services? Luxury items?
Who buys what you are selling? Are they men or mostly women? How old are they? What kind of income do they have? What is their education level?
What do your ideal clients care about?
What problems do they have?
How can your products help them?
It is a helpful exercise to create a profile or two that represent your ideal target audience member. Make it as detailed as possible. Give your person a name and face and invent a backstory for them that answers the questions listed above.
Write Great Captions
Identifying your target audience will help you keep them in mind when you are writing Instagram posts to go with your images.
When writing your content, make sure that it speaks to your market's needs and interests. Make your text engaging and encourage interaction with your followers. Ask questions. Be sure to include a call to action. You can even conduct informal surveys. Every post is an opportunity to develop your brand personality and identity.  Every publication is an opportunity to interact with potential customers.
See the example below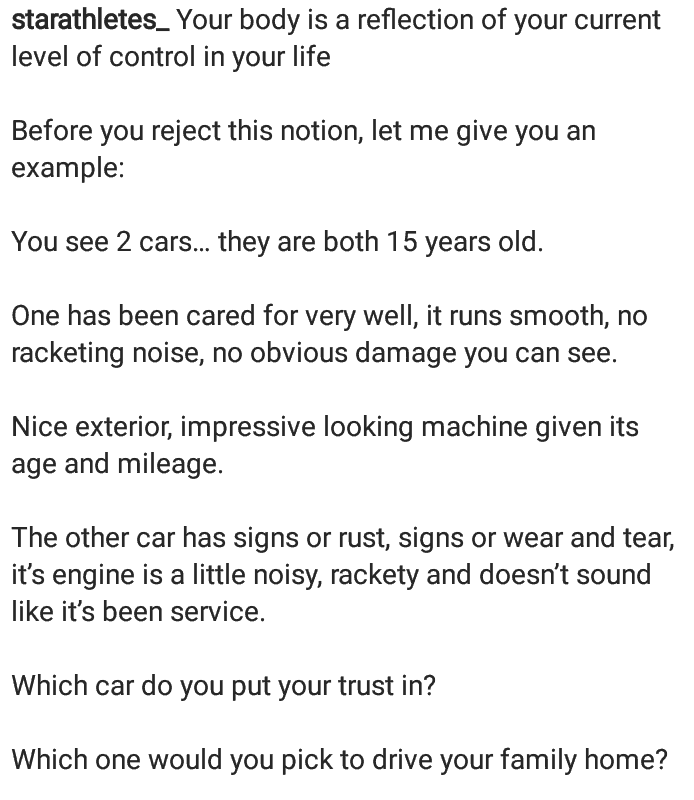 By knowing exactly who you are writing for you will have an easier time deciding what to write. An engaging text that captivates your audience will create loyal followers. Loyal followers on Instagram are more likely to click through to your website. This is the engagement with your brand that you want.
Remember, increased engagement on Instagram leads to a boost in sales on your website.
3. Help Your Target Audience Find You
One of the best ways to find your target audience requires you to learn how to effectively use hashtags.
Hashtags are searchable words and phrases preceded by the '#' symbol. These serve to organize and categorize photos and content on and off Instagram. These catchy phrases are a very important aspect of your Instagram posts and content.
Once you identify your target audience and come up with engaging posts, you need to add relevant hashtags. These will help you get discovered by new people.
You can use up to 30 hashtags in every post. There is a lot of debate about how many hashtags you should use.
Some social media experts recommend using all 30. Other experts recommend limiting your hashtags to around 15.
Play around a bit to find what works best for you. Keep in mind that 10 highly-effective hashtags can have more of an impact on your following than 30 less popular ones. Too many hashtags can also make your posts look 'spammy'.
Use popular hashtags. Some show up in millions of posts. Others show up in only a few thousand. Do your research. Hashtags should be descriptive of the product you are selling and communicate your brand identity.
Besides using hashtags in your posts, you can include them in your bio and your Instagram stories.
Instagram users will follow hashtags as often as they follow other users. Hashtags are also searchable. Through the power of hashtags, your business can be discovered by millions of Instagram users that may have never come across your brand or products otherwise.
Using the right hashtags will improve your reach. They are an important tool to widen your funnel. They also encourage engagement and increase your following.
4. Use All the Features that Instagram Has to Offer
Are you overwhelmed trying to figure out what Instagram features you should be using as a business owner? Which ones are the most effective to reach your marketing goals and engage with your target audience?
The simple fact is, that you should be using all of them.
Instagram for Business has some great features that directly help boost your sales. To get the most out of this incredible platform you need to put in place a strategy that takes advantage of all these different features.
This will make your account more interesting and engaging for your potential followers. It will also inspire people to follow your account and interact with your content.
Here's a basic rundown of the features you should be taking advantage of.
Instagram Stories – Stories are posts that exist for only 24 hours. You can share photographs and videos without the fear of overwhelming your regular feed. These images disappear after 24 hours, so it's a great place for sharing content that you may not want on your profile permanently.
Stories can be enhanced with stickers. These allow you to poll your audience or place a countdown sticker. You can even post a fun quiz relevant to the products you are selling.
Instagram Live – This is a great option to engage your audience. Your followers will be notified with a pulsing button that takes them directly to your live broadcast. You can take advantage of this feature to announce sales, new inventory, or any other big news.
Going live is a great way to let your audience see the real you. Authenticity is deeply appreciated by the Instagram audience. Offering a live feed is a great way to build trust in your brand.
Instagram TV (IGTV) – Unlike stories or going live, Instagram TV allows you to post videos that are up to an hour long. Again, this is a great opportunity to create video content that offers a 'behind the scenes' look into your business and the product you offer. Video is proven to have higher engagement than regular photo posts.
Shoppable Posts – This feature is essential for any eCommerce business that has a presence on Instagram. Setting up shoppable posts lets you tag products in your photos. You can essentially turn your Instagram feed into an interactive and beautiful catalog.
How does it work? When someone clicks on a shoppable post, your customer is redirected to your website. They can immediately complete their purchase. Even if they do not buy a product the first time they visit your site, they will have made the leap into your online store.
Instagram Ads – Ads are easy to set up and are remarkable in expanding your reach to your target demographic. By setting up even a modest marketing budget, you can turn any high performing post into a sponsored ad. These ads will show up in the feeds of potential followers.
You can also use Instagram ads in stories and videos. You can even design a slideshow or catalog style ad featuring your products.
If you are going to spend money on targeted marketing, Instagram is the place to do it.
Take the time to really dig into each of these features and integrate them into your social media strategy.
5. Connect with Others in your Niche.
This might seem counter-intuitive. Why would you want to connect with other businesses that you are essentially competing against?
"The thing is, Instagram is a great place to let your business shine in the context of community. You can team up with like-minded businesses to offer a product giveaway. You can also work together to reshare interesting and relevant posts. You should also be on the look-out for influencers that you can potentially work with to further your reach." — Jason Brentt, Marketing Specialist at Top Writers Review.
Additionally, following other businesses is a great educational opportunity. You can learn a lot by following successful accounts and studying what strategies work for them. What hashtags are they using? What is their posting style?
As a business owner, it is always a good idea to do your research. You can read all the top social media blogs on the web about how to build a successful Instagram campaign. These will certainly be helpful, but sometimes you have to connect with businesses that serve as mentors. It is helpful to witness successful strategies in real-time and real life.
Want to get the hashtag strategy that brings me 11,000 impressions per post?
Get The Ultimate Instagram Hashtags Cheatsheet
Download now!
50% Complete
Get The Ultimate Instagram Hashtags Cheatsheet
Attract the right people to your profile using Hashtags on Instagram
100% Privacy. We will never spam you.
100% Privacy. We will never spam you.
Conclusion 
Build your brand with Instagram. Let your readers know who your company is. What are your goals? Your ethics? Create a consistent personality and image. Be inviting and engaging. All of this you can do with well-planned content.
Learning how to boost your eCommerce sales on Instagram is obligatory if you want your online business to make it. In the quickly evolving eCommerce marketplace, every business needs to embrace the opportunities that Instagram provides. Widen your funnel, increase your conversion rate, and enjoy a boost in sales.  It's pretty simple.