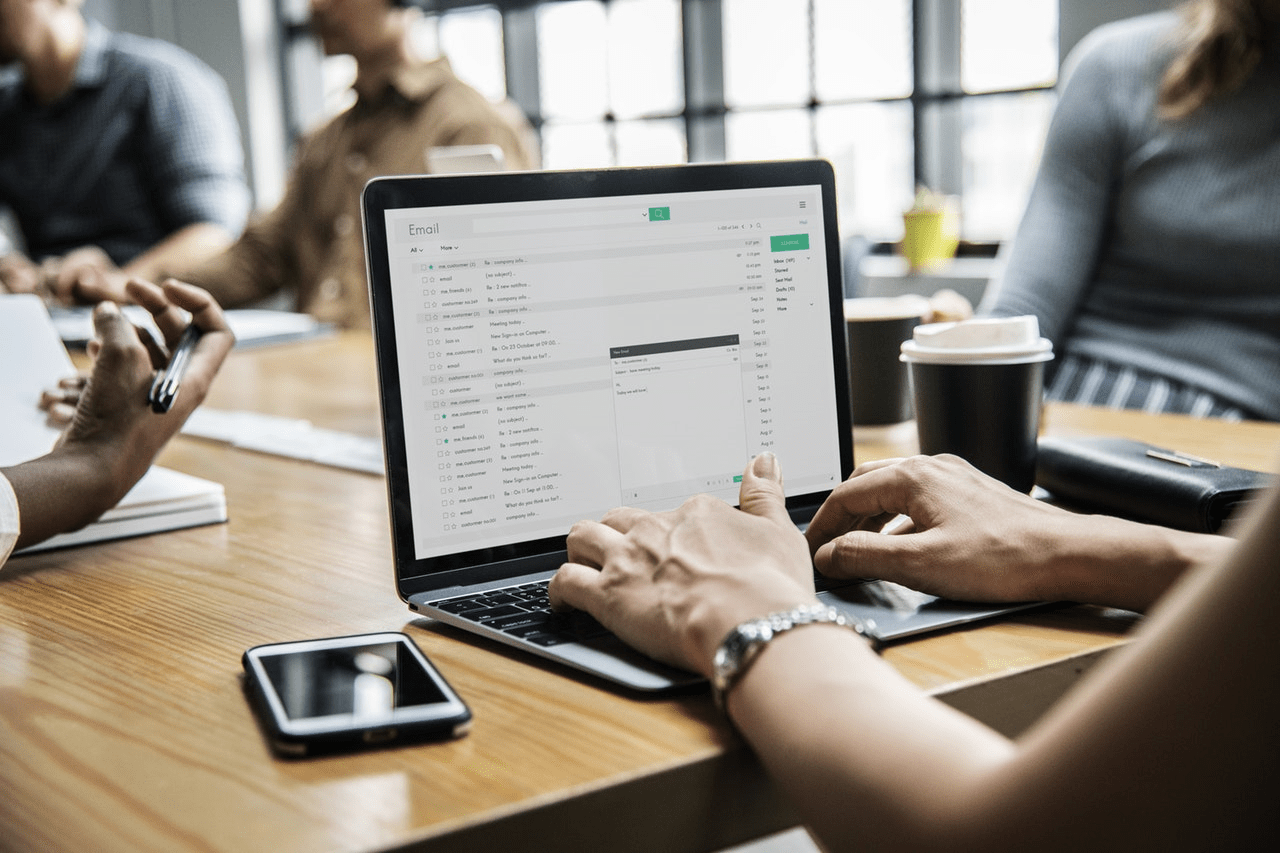 Making your emails stand out in a crowded inbox can be tough. Many consumers are overloaded with a constant stream of communications, which means businesses have to work even harder to get noticed. The payoffs are worth it though – a study by Campaign Monitor found that every $1 spent on email marketing generates a $44 return, a considerable figure. So how can you up your email game and generate these kinds of results? Here are 6 examples of killer emails that drive results…
1. The welcome email
The welcome email can make or break a customer relationship. Make a bad impression and your shiny new prospect will immediately unsubscribe, never to be heard from again.
So, it's crucial to get this first email right and set yourself up for success in the future, which is exactly what the Alamo Drafthouse Cinema does: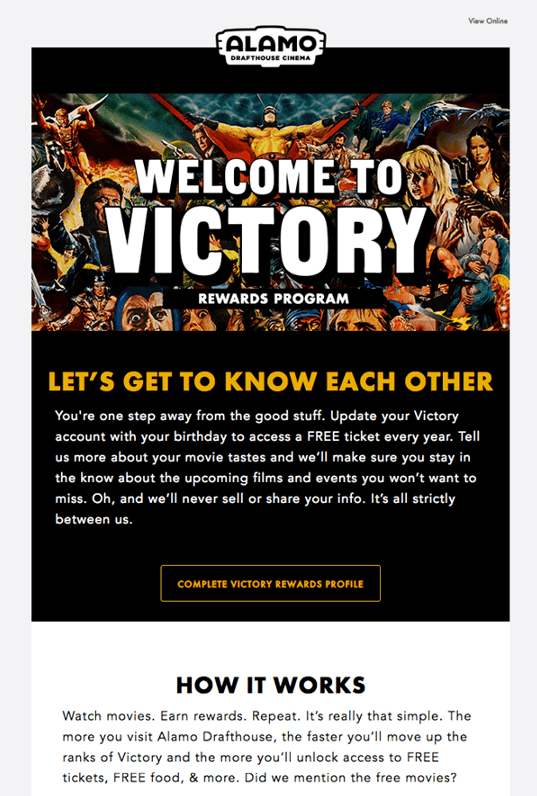 Image Really Good Emails
It starts by giving the reader a reason to stay subscribed by promising a free cinema ticket in return for their birthday details. People often unsubscribe after receiving a freebie or lead magnet, so this approach encourages them to stay on the list.
Including a How It Works section educates the subscriber about the service on offer and What's Next sets clear expectations. This is important for new subscribers who probably aren't sure what to do next.
Lastly, they include a Purchase Tickets button at the end which makes it super-easy for subscribers to buy. You don't want to be too promotional in your first email as this can put people off, but you do want to give them the option to purchase.
Key Takeaways:
Give the reader a good reason to stay subscribed.
Educate them about your product or service and set expectations.
Give them the option to purchase without being too pushy.
2. The abandoned cart email
Whether they got distracted or weren't sure about buying, an abandoned cart email can provide a reminder and reassurance that purchasing is a good decision.
Adidas have a particularly well-designed email for this purpose that incorporates humor and objection-handling in one effective package.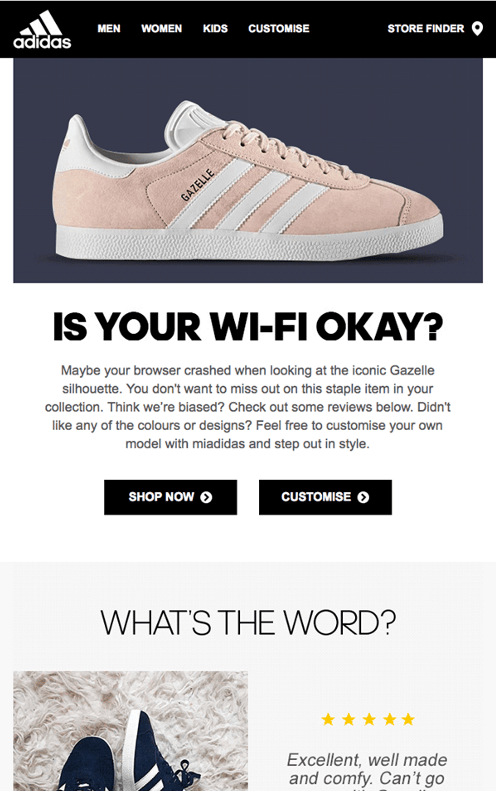 Image Really Good Emails
The email opens with a large photo of the abandoned purchase which acts as an instant visual reminder to provoke their buyer's desire. It then addresses some of the possible reasons people didn't purchase, for example by encouraging them to check out different color options.
Finally, sometimes people abandon purchases because they're just not confident in the product or service. Adidas know this and offer some embedded social proof with a number of genuine star-rated testimonials to give their customers that final nudge.
Key Takeaways
Include an image of the abandoned product to keep it in the forefront of your customer's mind.
Address possible concerns or barriers directly.
Add social proof in the form of reviews or ratings.
3. The confirmation email
The confirmation email is what people should receive immediately after purchasing. It provides proof that the item or service has been paid for, but can be even more powerful when executed correctly.
For example, Airbnb uses the confirmation email to great effect by providing a comprehensive source of info on everything about a customer's booking: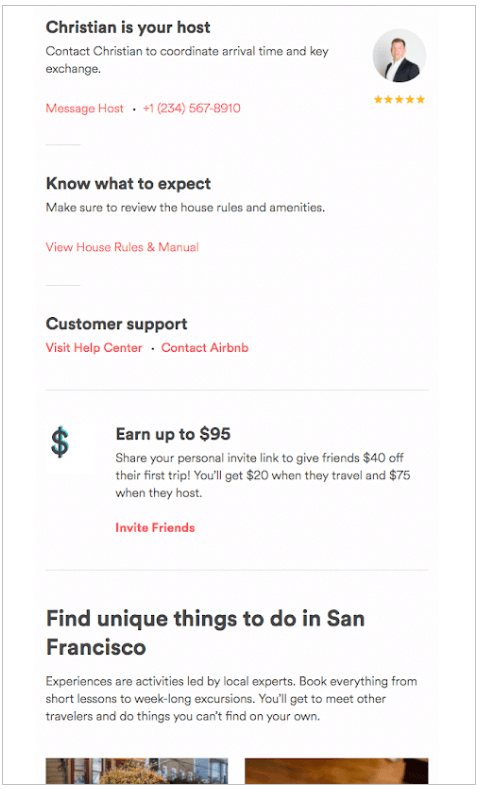 Image Really Good Emails
In addition to the booking information, the email includes links for directions, making changes online, or viewing the house rules. It also features additional activity ideas so that people can make the most out of their trip.
These ideas add value to a simple confirmation email, getting people excited about their purchase and reinforcing their loyalty in the Airbnb brand. Creating positive emotions within consumers after they buy something is a surefire way of creating repeat customers.
Key Takeaways
Start with the essentials such as product and payment info
Add practical elements like the ability to change an order or add info to a calendar
Get people excited about their purchase with added value ideas
4. The survey email
Customer feedback is essential to the success of any business, but let's be honest – surveys can be pretty boring. The majority of people delete survey emails as soon as they open them. After all, most of us are busy with more important things.
However, medication brand Headspace created an email that bucks the trend and makes survey participation much more likely: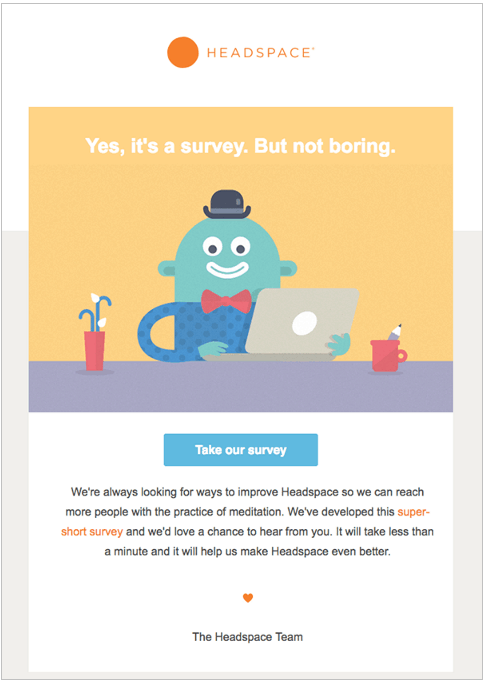 Image Really Good Emails
Firstly, it promises the subscriber that the survey isn't boring which instantly creates an element of intrigue. They also make it clear exactly how long the survey will take, heading off any time-related objections at the pass.
Perhaps the only thing that could improve this email is the offer of a reward in return for completion, such as a discount code or free product. Nonetheless, as far as survey emails go, Headspace has it down.
Key Takeaways
Make your survey email intriguing to entice audiences to take part.
State how long it'll take to complete to immediately address any objections.
Offer people something in return for completing it to really drive up participation.
The more emails you send, the more people you'll reach — use an automation tool like Moosend for email marketing that's scalable.
5. The promotional email
The promotional email is where you can really make money from your email list. Promoting your products or services is an essential element of business, but it needs to be approached in the right way. If you come across too salesy or promote things that aren't relevant, then people may be put off and unsubscribe.
Here's a sophisticated take on the promotional email by digital print and design brand Moo: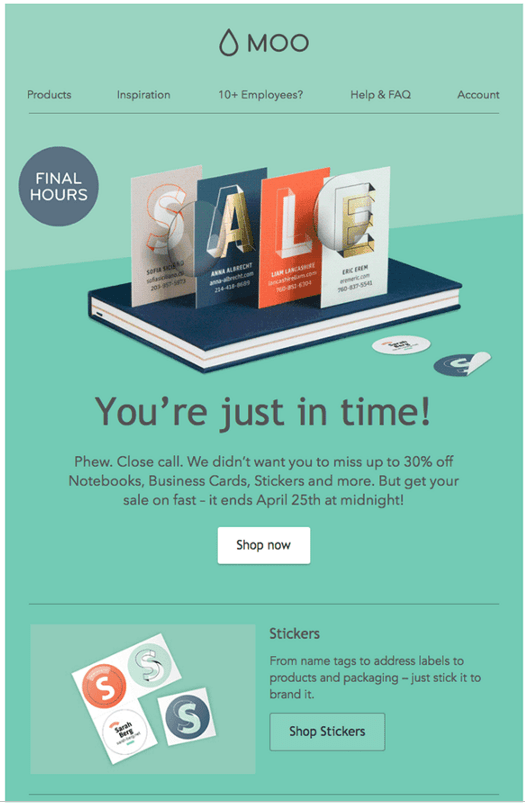 Image Really Good Emails
The design of this email mirrors their website to create a seamless branded experience when their customers click through to their online store.
Moo also includes a large hero image and a headline that creates a sense of urgency to immediately compel their audience into action. An urgent subject line is great for this. But you can take this further by using countdown timers in your cart abandonment emails to really drive up click-to-open rates. These can be created using third-party countdown timers, although most modern email marketing platforms such as Moosend includes customizable countdown timers as standard.
The email then features smaller images and snippets of information on a variety of products, to address the various needs of a diverse audience. Finally, their Refer A Friend option in the footer makes it easy for customers to share the promotion with friends and family who might be interested.
Key Takeaways
Start strong and establish scarcity or urgency to encourage action.
Include several product/service options to cater to the diverse needs of your customers.
Extend the reach of your email by making it easy for subscribers to share by including social share buttons for Facebook, Twitter, Pinterest, and so on.
6. The reactivation email
If you haven't emailed your list in a while or have a group of subscribers who aren't opening them, then a reactivation email could be the solution. It'll remind them of why they signed up in the first place and give them the nudge to take action.
Events platform Meetup does this really well with a simple text email: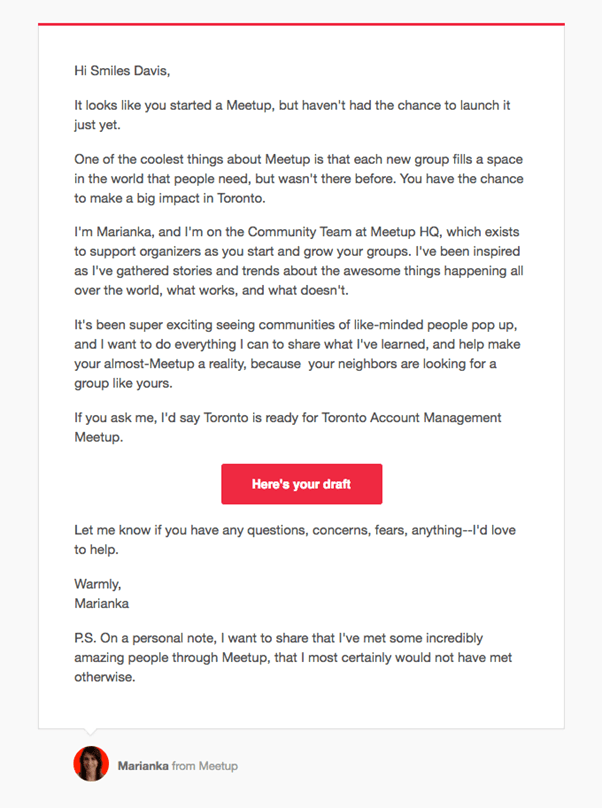 It highlights the benefit of starting a Meetup and uses inspiration language to encourage people to take action. It includes a link to a draft template which makes it really easy to move forward and also offers help for people who have queries. If your subscribers aren't sure what to do, then they'll probably do nothing.
But by breaking down the next step into something simple and offering support along the way, you're much more likely to re-engage people. If you don't get any kind of response, then it may be worth cleaning them from your list to improve overall deliverability.
Key Takeaways
Recap the benefits of your product or service
Make it easy for people to take the first step
Offer help or support in case they aren't sure what to do
No matter what stage your business is at, smart use of email marketing can help you reach your next goal. Incorporating these killer emails into your sales funnel can boost your web visitors, checkout conversions, and overall revenue. Adopt a few of these principles and you may be surprised by the results they generate.
Author: Victoria Greene is a brand consultant and freelance writer who runs a blog called Victoria Ecommerce. Here she offers expert advice to brands looking to 'hack' the newest social media channels to bring in sales.your text here…