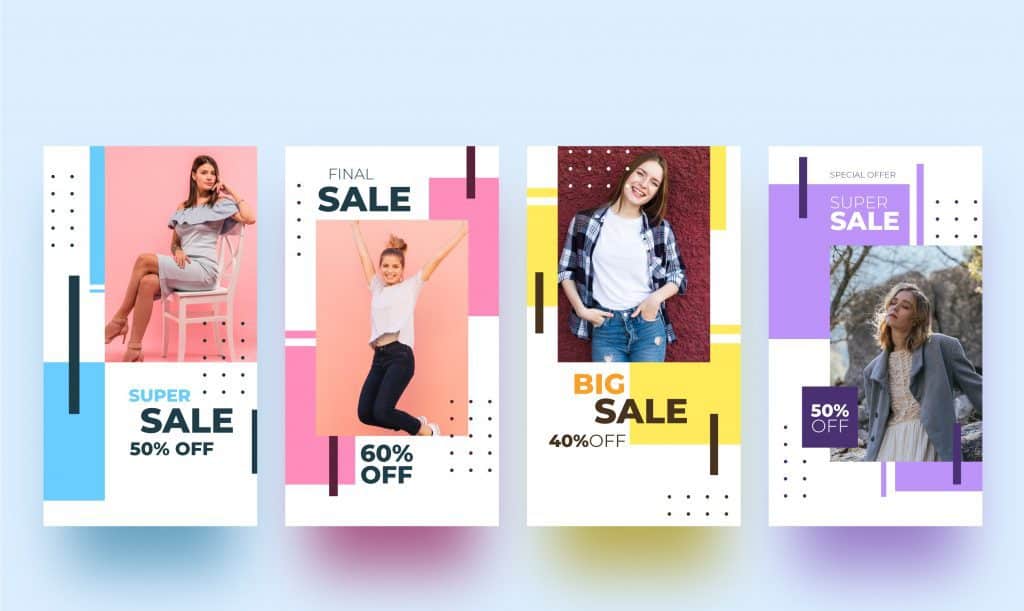 Promoting a brand is a complex and demanding task. It requires you to create a strategy that's going to cover everything necessary. You need to employ different resources, tools, and methods to build a high-functioning marketing plan. And, what definitely needs to be one of your top choices for promotion tools are social media platforms. With almost 3 billion active users worldwide, social media is the ultimate marketing tool. This especially goes for Instagram.
So, to promote your brand on Instagram, you can use multiple features this platform offers. This article will give you an in-depth analysis and numerous ideas on how to use Instagram stories for brand promotion.
Let's break it down together.
Want to get the hashtag strategy that brings me 11,000 impressions per post?
Get The Ultimate Instagram Hashtags Cheatsheet
Download now!
50% Complete
Get The Ultimate Instagram Hashtags Cheatsheet
Attract the right people to your profile using Hashtags on Instagram
100% Privacy. We will never spam you.
100% Privacy. We will never spam you.
Share User-Generated Content
To promote your brand properly, you need to consider incorporating social proof into your strategy. People are looking for evidence that your brand is reliable and your products are worth their money.
This is why most people will look for:
Customer reviews
Testimonials
Comments
Ratings
They'll want a confirmation that they can trust you and your brand.
Instagram stories are a great place for you to post or repost user-generated content (UGC).
Use the Instagram stories to publish content created by your customers, and related t your brand:
Images of them wearing/tasting/using your brand
Their pictures of the product
Pictures they tag you in
Videos of them and your brand
You can write thank you notes and post stickers to make the content more visually appealing.
This type of story will have a double effect:
Users whose content you've reposted will feel special and appreciated
Other users will get the social proof they're looking for
It's a win-win situation where you can't go wrong.
Answer Followers' Questions
To promote your brand, you need to find a way to build stronger bonds with your social media followers, potential customers, as well as current ones.
Instagram stories allow you to open up a window of opportunity for your followers to communicate with you freely.
All you have to do is use Instagram stories questions box, and open up a discussion:
Ask us anything! Our design team will answer.
Ask us anything about our latest product launching.
What do you want to know about the upcoming fashion show in Madrid?
People who care for your brand will start asking questions. By answering their questions, you're doing the following:
Bonding with your followers
Sharing valuable information
Building or strengthening your brand identity
Try answering as many questions that other customers would be curious to learn about.
Ask For an Opinion
Your audience is the key to the success of your marketing strategy, and the improvement of your business.
It's important that you listen to what they have to say and try to adjust things according to their taste.
So, you can use Instagram stories polls to:
Ask your customers to vote for what they like better
Ask them to participate and help you make a choice
Vote for a certain type of product they prefer
Take part in the design of a new product
Ask them whether they want you to post more about something or do a project you planned on doing
Polls will help you engage your audience, learn about their preferences and get to know them better. It will help you make the right moves in your future promotions and stay on the right track.
Show Them Your Team
People love peeking behind the scenes of a brand or business they're following. What happens behind the brand is a curiosity many people admit to having.
So, why not give them a peek backstage?
You can use Instagram stories to share images or videos of:
Your team members in different departments
The process of producing a product
A day in your offices
An office party
Inside jokes or traditions
You can even allow certain team members to take over the Instagram stories for a day and see where that takes you.
This type of content shared in your stories will make your followers feel closely related to your brand, almost like they know your team members personally.
It's the perfect way to establish firm relationships with your audience and get them to stay a fan.
Do Live Videos
Going live on Instagram is a must if you want to promote your brand properly. Live videos are extremely popular and can work wonders for your marketing strategy.
So, what can you do with live videos? And what makes them so fantastic? Let's take a look.
Live videos on Instagram stories are fantastic for:
A live discussion on any given topic
Broadcasting from a brand event
Reporting back after an event
Announcing a new product, event, a change, or some great news
Do an interview
Collaborate with an influencer
You can do all of this, and more, with a tool as simple as Instagram live video.
Make sure you schedule the live session in advance and invite as many people as possible to join you and take part in it.
How-To & Guides
Sometimes, your customers need a hand to understand how to use a certain product or what options you've placed in front of them.
Instagram stories can become their go-to resource when they need things to be further explained or broken down.
So, you can use Instagram stories to:
Explain how to use a product
Advise on product maintenance
Answer FAQ
Share product hacks
Give brief demonstrations
This will turn your Instagram stories into a source of valuable information. This will increase the number of your followers and show that you care for your customers.
Build Tension
Instagram stories are perfect for creating attention-grabbing teasers when announcing something new. You can use them to build the tension around anything you want to introduce to your followers.
So here's a couple of ideas on what you can do:
Share brief segments of a video you've scheduled for publishing
Give a sneak peek into a new product
Give away a couple of details to make them excited for the rest
Anticipation is a great tool for promotion. By making your followers wait for something to be announced, you're making it even more special.
It's a technique that won't fail you.
Promote Special Offers & Sales
If you have something special happening in your company, make sure you use Instagram stories to inform your followers.
They will want to know about things such as:
Sales
Discounts
Limited editions
Special offers
Coupons
Post about it in your stories and make sure you add a "Swipe Up For More" option to take them directly to your website.
Add Product Stickers
Product sticker is another revolutionary Instagram feature that has turned the tables for e-commerce businesses and brands all over the globe.
Product stickers are little product tags you can add to an image to explain what exactly is portrayed. But, it goes even further and includes:
The exact name of the product
The price
A link to purchase the exact product you see in the Instagram story
This simplifies the process of locating a product.
Customers won't have to go to your website and search for a product category to find what they saw on your social media profiles. All they have to do is click your product tag and land directly to the purchase page.
This will promote your brand the right way and increase your sales.
Promote Other Content
Finally, there's one last piece of advice on our list of ways to promote your brand using Instagram stories.
Instagram stories are a great tool for promoting any other type of content you have going on within your marketing strategy. Here's what we have in mind:
Announce that you have a new post for them to check out
Advertise your latest IGTV video
Invite them to read your blog post
Tell them about a new video you've posted
Share the same information in different languages, and if you need help with translation, go to The Word Point
Instagram stories can help you strengthen all the other types of content you've been sharing and promote your brand even better.
Want to get the hashtag strategy that brings me 11,000 impressions per post?
Get The Ultimate Instagram Hashtags Cheatsheet
Download now!
50% Complete
Get The Ultimate Instagram Hashtags Cheatsheet
Attract the right people to your profile using Hashtags on Instagram
100% Privacy. We will never spam you.
100% Privacy. We will never spam you.
Final Thoughts
Instagram stories are perfect as a tool for promoting your brand. They offer a wide variety of options that you get to use freely.
Make sure you're wise about the way you use Instagram stories. Use the guide above to make the most out of each new story that you publish.