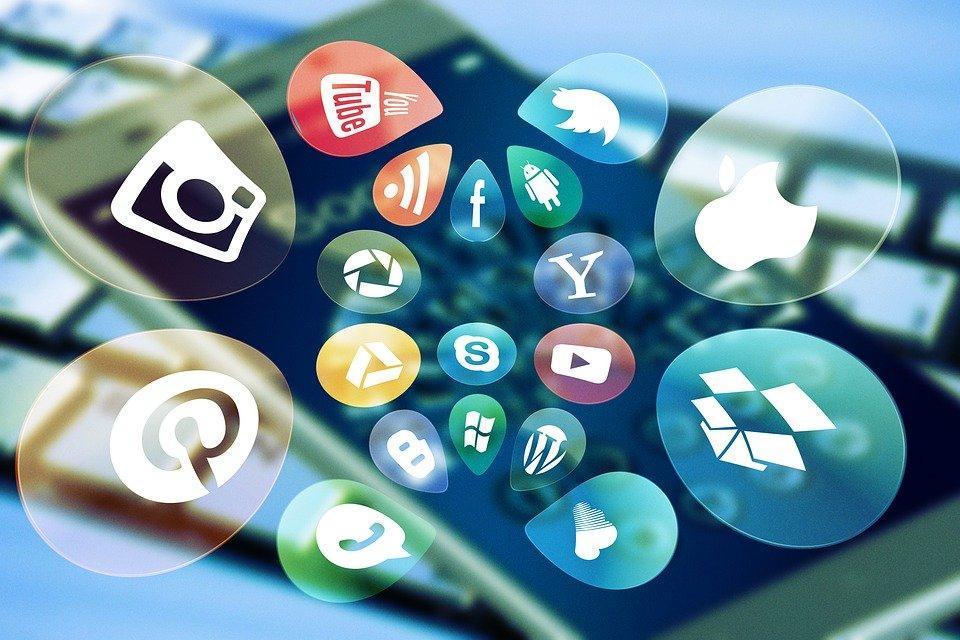 Social media usage is now practically an essential part of our everyday day lives. With more than 45% of the world's population on social media, it is everywhere! Some use it is as a means of entertainment, news consumption, sharing pictures, videos, etc., or staying in touch with family and friends. Additionally, in the last two decades, it has become a low-cost primary marketing channel for businesses to reach customers and increase their ROI. Social media gives marketers insight on how to measure results in sales, leads, and branding.
Therefore, taking into consideration these benefits, it's critical that your business designs an active social media strategy to connect with your target audience. However, before you delve into developing your marketing strategies, it is crucial to look at the social media usage statistics to support your efforts. Here is a list of what you need to know about social media marketing statistics in 2021.
Overall, Social Media Statistics:
Understanding the latest social media advertising statistics and platform-specific performances give you an idea of what other marketers are doing on different platforms. And most importantly, you'll begin to understand consumer behavior and preferences on social media that can help your consume approach and lead conversion.
How Many People Are Use Social Media?
So exactly how many people use social media? The social media surveys from 2019 show that about 3.5 billion people worldwide make use of social media, and the numbers are only growing.
The increasing number in social media usage can be linked to the fact that a mobile possibility for users keeps improving and is easier to access. Most social media networks are frequently developed as mobile apps optimized for mobile browsing while on the go. Also, they require very minimal resources or know-how to operate.
Daily Usage by Generation
The result of the social media usage by generations as broken down by e-marketers is pretty impressive.
The highest numbers of social media users by age are:
Millennials at 90.4%
Generation X at 77.5%
Baby Boomers at 48.2%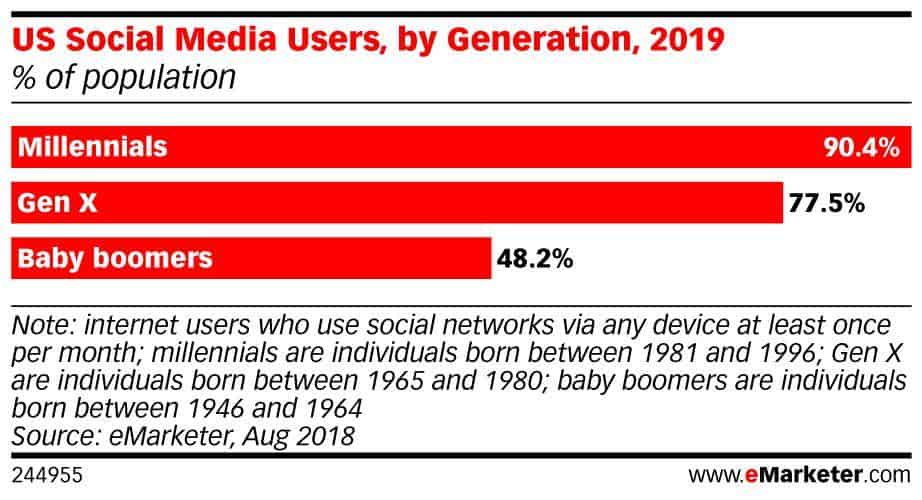 Millennials have the highest number of social media users and have the broadest access to smartphones., while Gen X, are more active via tablets. And then the Baby Boomers are also bridging their gap by embracing technology and becoming more familiar with social media platforms. When creating your social media marketing adverts, this statistic will help determine your target market.
However, on the flip side, another survey carried out by survey monkey on Millennials vs. baby boomers: who quits social media, shows that Millennials and Gen Z generations were more likely than baby boomers to hop on every social media platform. Still, they were also significantly much more likely to quit. While the excitement to get on social media might be higher for younger generations, patience to stay on isn't.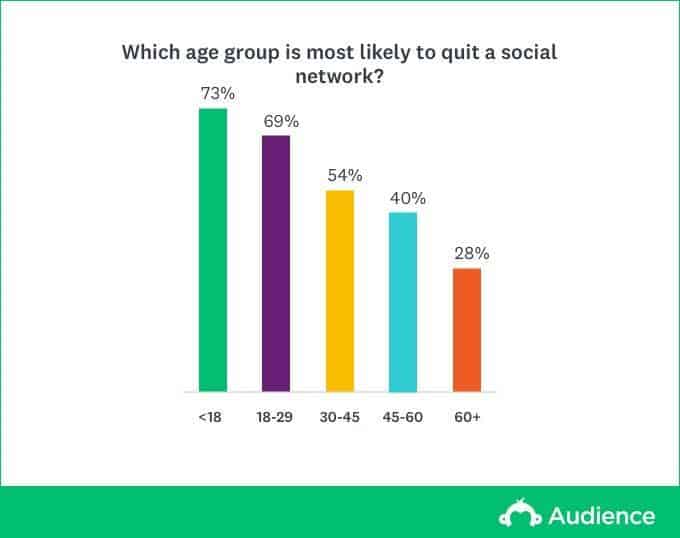 Length of Time Consumers Spend on Social Media?
Another interesting fact about social media usage is how addictive it has become. For one, I can spend hours on my Instagram explore page and log on to search for a specific product. It is effortless for a user to become engrossed and carried away, whether it's scrolling through endless Facebook feeds on a train ride or posting the perfect dinner date photo on Instagram.
According to 2019 statistics from GlobalWebIndex, a person can spend an average of 3 hours per day on social networks and messaging. Meaning from the overall time users spend on the internet over half the time goes to social media according to this info-graphics by Hootsuite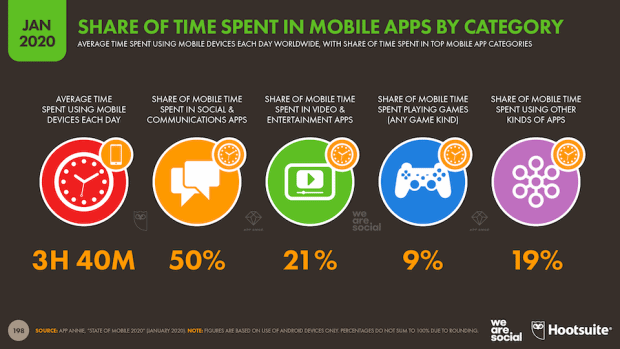 As social media keeps getting more integrated into our daily lives, the countless opportunities for businesses looking for the best means of reaching out to their audience through social media marketing are on the rise.
Summary of Social Media Marketing Statistics by Platforms 
Here is a summary of social media stats for some top platforms (Facebook, Twitter, Instagram, YouTube, and LinkedIn ) for your 2021 marketing strategies.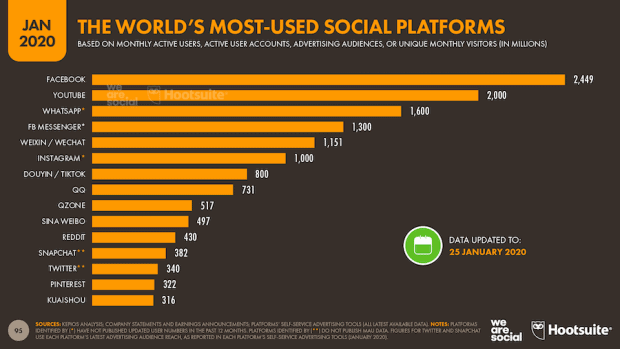 Facebook statistics
The Facebook social platform still dominates in terms of usage and ease of reaching your target audience. It remains a favorite among marketers and consumers, according to the Sprout Social 2019 Index. Some noteworthy statistics include:
89% of marketers use Facebook for brand marketing campaigns
By the third quarter of 2019, over 2.5 million monthly active users live videos are essential for business ads on Facebook, over 68% of marketers have posted their video content on Facebook, while 70% plan to do so in 2020
With over 7 million advertisers, Facebook ads are vital for small-sized companies to help them gain visibility and surpass competitors with ease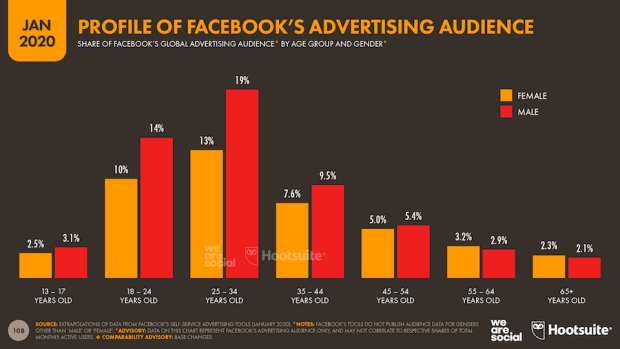 Twitter Statistics
With a 9% year-on-year rise in revenue in the third quarter of 2019at $824 million, marketers need to keep an eye on the latest social media stats on Twitter. Some of these stats include: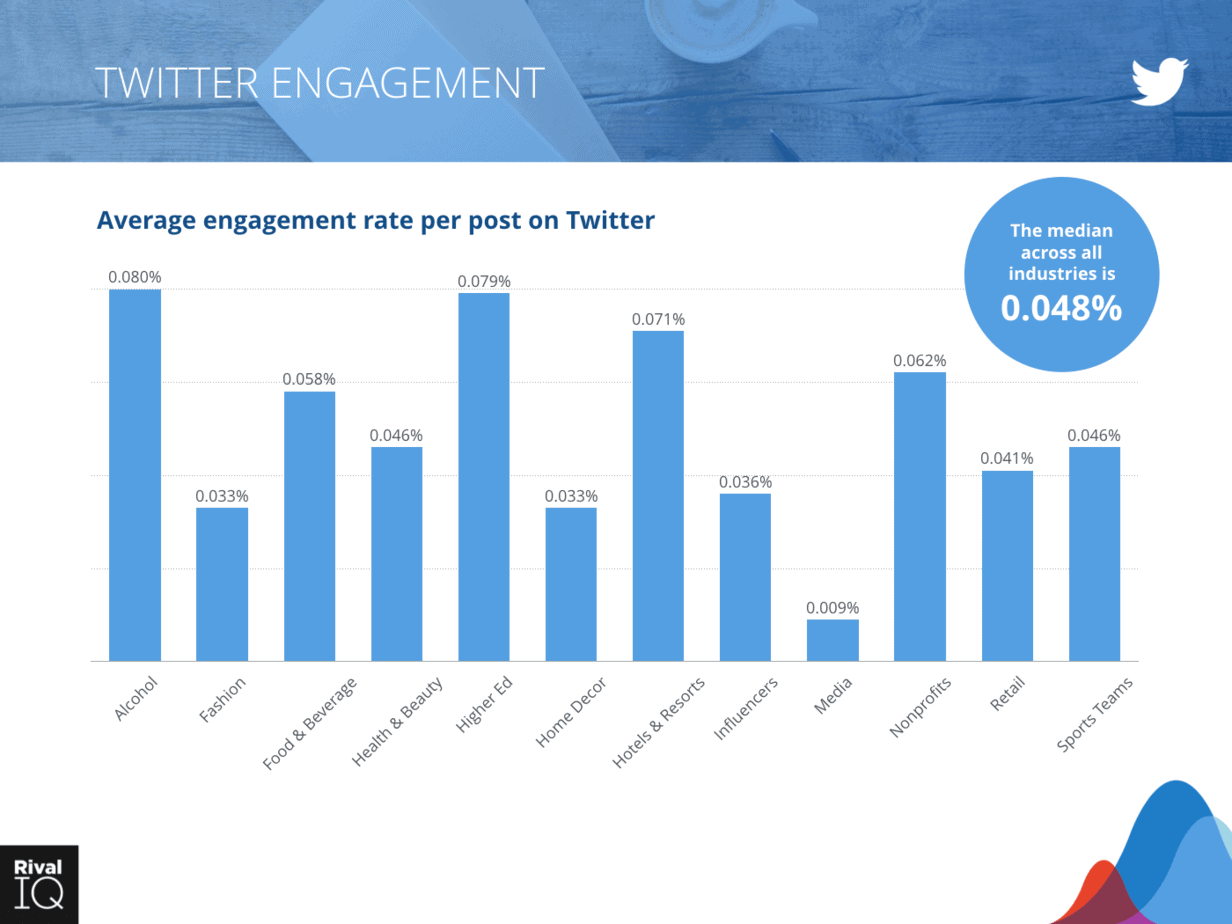 Instagram Statistics
Of all the social platforms, Instagram most likely the newest features every few months. It is only natural that the platform continues to see an increase in user count and engagement, so here are some stats to consider for your social media marketing strategies: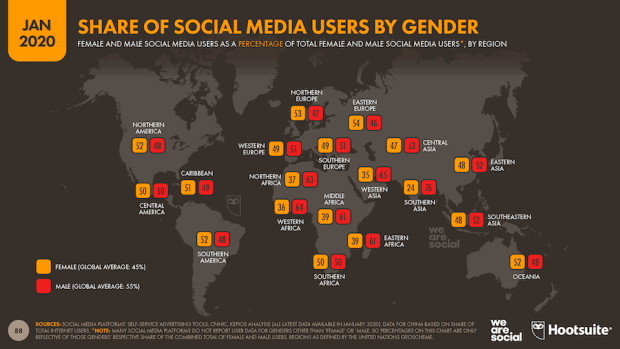 The best times to post are on Wednesdays at 11 am, and Fridays from 10 to 11 am. Wednesday is the day of the week to post, while Sunday has the least engagement
YouTube Statistics
YouTube remains your go-to platform for video content. YouTube mobile alone, reaches more 18-49 year-olds than any of the cable networks in the US and with over 1.8 billion monthly active users  here are a few other YouTube stats you need to consider:
LinkedIn Statistics
With a completely different audience type, LinkedIn has the largest professional network. Thus, this makes it the ideal platform for Business-2-Business (B2B) marketers. Here are some LinkedIn statistics for marketers to consider:
LinkedIn now has over 660 million users worldwide with 303 million of them being active monthly
More than 30M companies represented on LinkedIn
LinkedIn is in over 200 countries and also available in 24 languages
Marketers have gained over 45% of customers through LinkedIn
65% of B2B companies make use of LinkedIn paid ads to get clients
95% of B2B content marketers use the platform for organic content marketing campaigns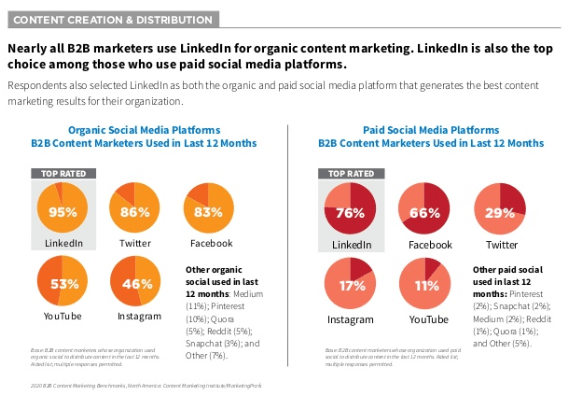 It is best to post on Wednesdays between 9 to10 am and at 12noon. Wednesdays have the most engagements, while Sundays have the least.
The number of marketers sharing video content on LinkedIn is currently around 55% and is projected to rise to 65% in 2021.
Conclusion
Whether you're a blogger, marketer, or a company, social media marketing provides an excellent platform for billions of more potential readers, customers, and subscribers. However, these users can only be achieved and engaged if you have a better understanding of how these platforms work. So, I hope these statistics can help you as you work on improving our marketing strategies for 2021.
About the Author: Ana Mayer is a freelance writer who is a qualified specialist in the field of digital marketing. She writes for different news portals and thematic blogs that help her stay at the heart of the programming and technology news. Such work gives her the opportunity to write articles on the most relevant topics of today.