Marketers have been reinventing their marketing tools and strategies for years now. Each year introduces a new trend or brings changes that everyone should adapt to.
But, one marketing tool has been going strong for years, and we feel like it's not going anywhere. User-generated content (UGC) only grew stronger in 2021, and you need to know exactly how to use it.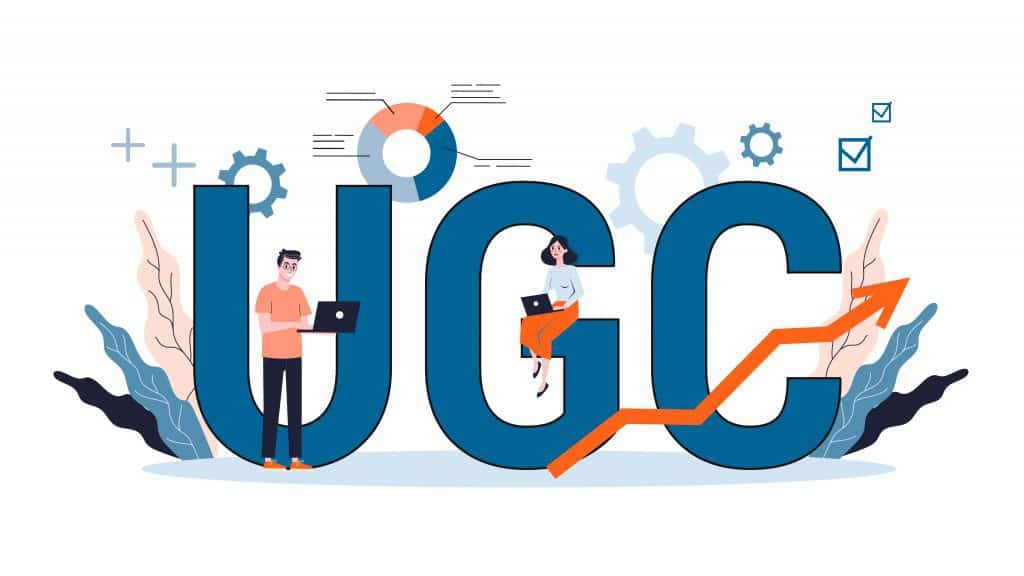 If you're not sure how to benefit from UGC this year, we've got you covered. Below, you'll find tips, tricks, and examples of best UGC practices in 2021. They'll help you understand UGC better and build your own strong strategy.
Let's take a closer look.
Choose Brand Ambassadors Wisely
The beauty of UGC is that it shows a unique, authentic experience of an actual customer with your product, brand, or services.
In the sea of paid ads, overpriced influencers, and marketing campaigns, UGC can bring authenticity back to the table. And that's what your customers want.
This is why you must choose someone who is a true representation of what your brand stands for, and not some fabricated personality.
Your customers are turned into brand ambassadors, so choose them wisely:
true fans
authentic social media profiles
representing what your brand stands for
Here's an example of great UGC that Pantene decided to repost with the comment: "So, we agree that this belongs in the dictionary next to "perfect curls" right?"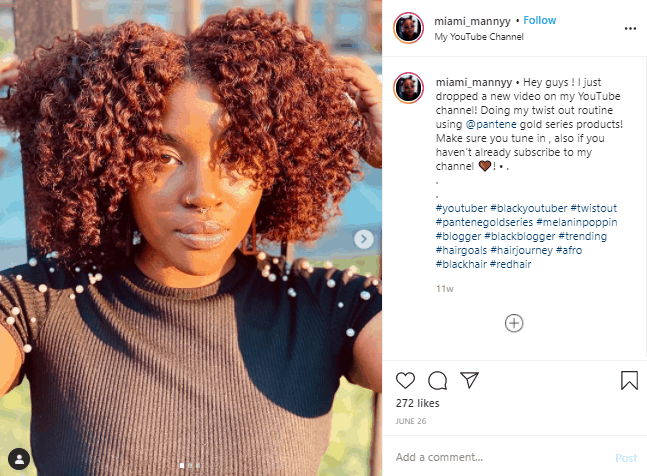 source: Instagram
Pantene showed they appreciate and admire every customer for their uniqueness and beauty. This will improve their customer retention and give them some extra points.
Be Considerate & Mindful
Another thing that your customers aren't going to like is the lack of manners. If you're using their materials to further advertise your brand, you need to do it like a true professional.
Here's how Schwarzkopf Professional does it with the materials they repost on their Instagram account.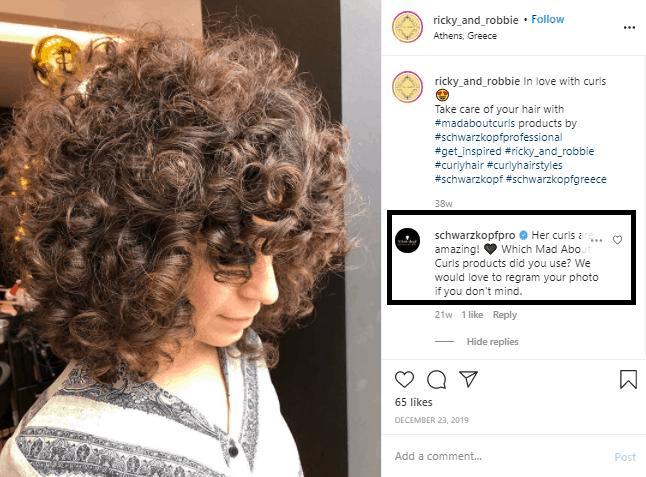 source: Instagram
This way, they're showing their:
They're also setting themselves below these hair artists', giving them an opportunity to feel even better about their work and decision to use their products.
The company reposted this photo by adding, "Gorgeous curls and #MadAbout are a match made in heaven! @ricky_and_Robbie used Mad About Quencher Oil Milk and Light Whipped Foam."
It's a perfect example of brilliant social media marketing.
Connect With the Micro-Influencers
Social listening is very important. You never know when someone is going to mention your brand and what they're going to say about it.
There could even be a micro-influencer saying something you'd want to share.
That's exactly what Apple does. They discover social mentions by micro-influencers and repost them on their Instagram.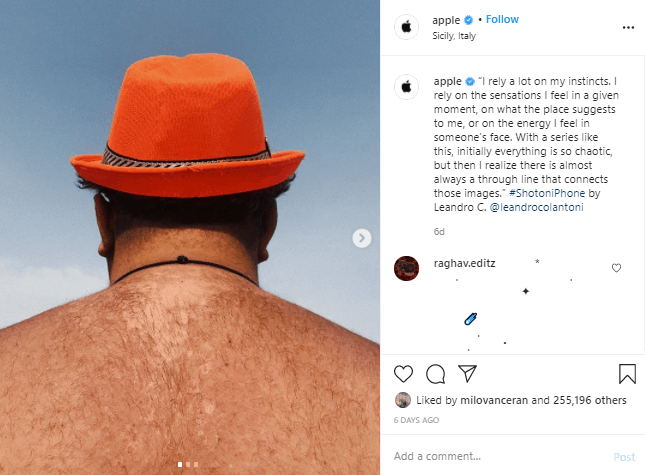 source: Instagram
The featured artist was happy to be featured on Apple's social media and later featured this mention on his website. This way, he's spreading the word about the company even further, which is exactly what their goal was.
Micro-influencers might not be as strong as mega-influencers, but their reach is still great in their local community.
Evoke Positive Emotions
When you're choosing the materials to share or repost as UGC, you should consider the emotion those materials are going to evoke.
Think about the way your target audience is going to perceive it and how it will add up to your brand personality.
Take a look at the image Eucerin decided to repost to the Instagram account.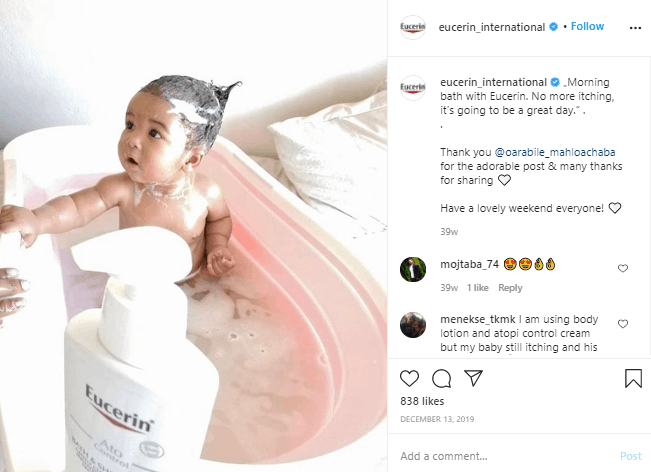 source: Instagram
This picture of an adorable baby having a bath will certainly bring a smile to so many faces. Follow their example and choose UGC that:
shows positivity
tells a nice story
gives your audience a reason to smile
Combine your product photos with a memorable detail from your customers' daily routine, and you'll have a winning combination.
And, if you've never written social media content, you can always check out the services that provide dissertation help. They can help you write great posts, captions, and content, and even create templates for you to use in the future.
Give Hope & Motivation
2021 is definitely going to be remembered for the outbreak of the COVID 19 pandemic and the terrible things that came along.
But, some brands are using their voice to support people in these harsh times. One of those brands is the marketing king Coca Cola.
Coca Cola launched a campaign titled "Together We Must" that focuses on giving people emotional support and help them adjust to the new normal.
One of the segments of this campaign is using UGC:
they find people who share inspirational and motivational messages
they repost their messages
they reinforce them and give them a chance to shine on
They created a featured story section titled "Feel Good Follows," where they UGC with inspirational messages.
source: Instagram
Coca Cola is using the currently most trending topic on Earth to show support for their customers and fans, and give them the support they definitely need.
And that is just pure brilliance.
Set a Challenge
When it comes to including UGC in your content marketing campaign, your job is not just to choose it. It's also to encourage its creation.
To have your followers and fans actively participate in content creation, you can set a UGC challenge as Over did.
They asked their followers to:
create content using Over
post in on Instagram with the hashtag #overdesignchallenge
potentially win a $100 voucher to spend in iTunes or Google Play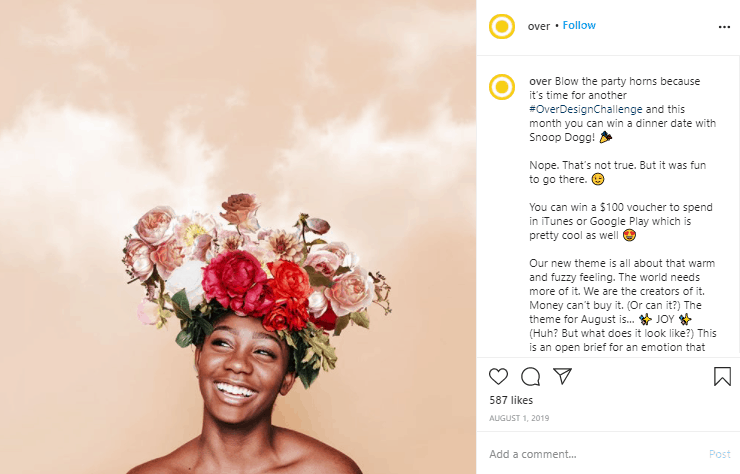 source: Instagram
They had hundreds of people post their Over designs, and the winners were featured on their Instagram account.
This brought them an increase in brand awareness and more Instagram followers.
They used UGC to advertise their brand, connect with their audience, and show the killer features that can create stunning designs. It's a winning strategy that you should use in 2021 as well.
Use UGC in Product Launching Campaign
UGC is a great tool to help you in different types of marketing campaigns. You can use it as a part of your launching campaign for a new product.
Here's what Glossier did to show how much they listen to their customers' needs and work hard on meeting them.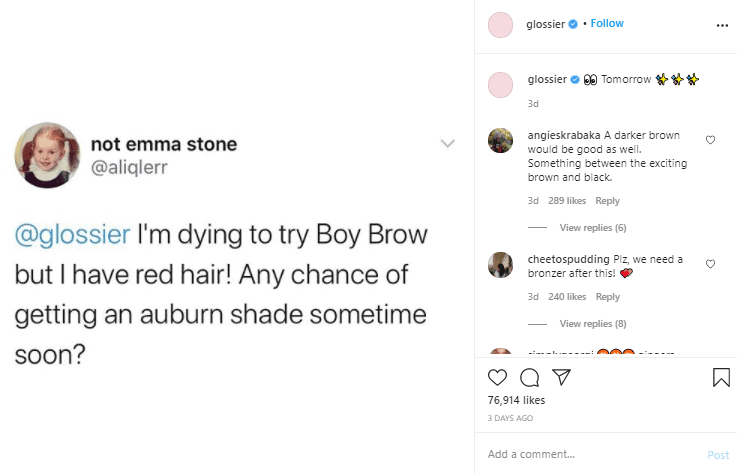 source: Instagram
They launched a new product for redheads, for shaping and fluffing your eyebrows. This product was requested by numerous customers, and once it was finally there, they used this tweet to reinforce the message of caring for their customers.
It's a great tactic for showing how important your customers and their opinion is to you- and that's exactly what they want to see.
Final Thoughts
UGC is a marketing technique that you need to embrace in 2021. As you can see, there are different ways you can use it and the different benefits it will get you.
Hopefully, the tips and examples we've shared above will help you create your own UGC strategy and start applying it as soon as possible.
_____________________________________________________________________________________
Melanie Sovann is a seasoned writer with over a decade of professional experience. She uses her writing skills in different spheres. She's an editor at a custom dissertation writing service and a freelance content writer. She prefers using her writing skills to help her readers overcome problems and learn new skills and tricks.