If you want to rank your videos on YouTube, it's vital to understand that the platform ranks content using an algorithm that is very different from Google Search.
Many marketers try to take Google Search SEO best practices and apply them to YouTube SEO, but that never works.
Of course, there are some similarities between the two search algorithms, like keyword importance, for instance. However, instead of relying on backlinks, as Google Search does, YouTube focuses more on viewer engagement signals, such as likes, dislikes, watch time, number of subscribers, and so on.
In this article, we take a look at 10 of the best YouTube SEO tips that you can use in 2021 and beyond.
If you're still trying to wrap your head around this platform's SEO practices, you can use these tips to help you dominate YouTube search and get your videos in front of your target audience.
But first, let's take a look at how the YouTube search engine algorithm actually works.
How YouTube's Search Engine Algorithm Works
This is how YouTube explains their search ranking algorithm:
We rank videos based on a wide range of factors, including how well the video title, description, and content match a viewer's query.
Beyond that, we also look at the videos that drive the most engagement for a particular search query and then make sure that it is easy for YouTube viewers to find those videos.
So while keywords are important from on-page and in-video perspectives, according to YouTube, the most critical factor is matching the user's search intent.
YouTube wants to keep viewers on their platform for as long as they can, even if it isn't on your own videos.
YouTube is a business, and as with all other businesses, their main goal is to make money.
For them, more video views mean they get to show more ads, which equates to more money in the bank. If your videos can drive engagement on the platform, you will be rewarded with more visibility.
You can measure most engagement metrics in YouTube's analytics dashboard, including:
Likes or dislikes
Comments
Audience retention
CTR
Average watch time
Card clicks
End screen clicks
…and many more.
The bottom line is that if your videos are not engaging your audience, then it won't matter how many meaningful keywords you place in all the right places – your video won't rank well.
Now that you've got that out of the way, let's get on with our 10 YouTube SEO best practices for 2021.
1. Start with Keyword Research
The first step in getting your videos to rank high on YouTube is conducting keyword research so you can uncover lots of in-demand video ideas. You need to dig into the topics that viewers are searching for.
According to a survey from Databox, almost 50% of respondents state that 51-80% of their visitors found their videos through YouTube search – so you can see how important it is to get your keyword research right.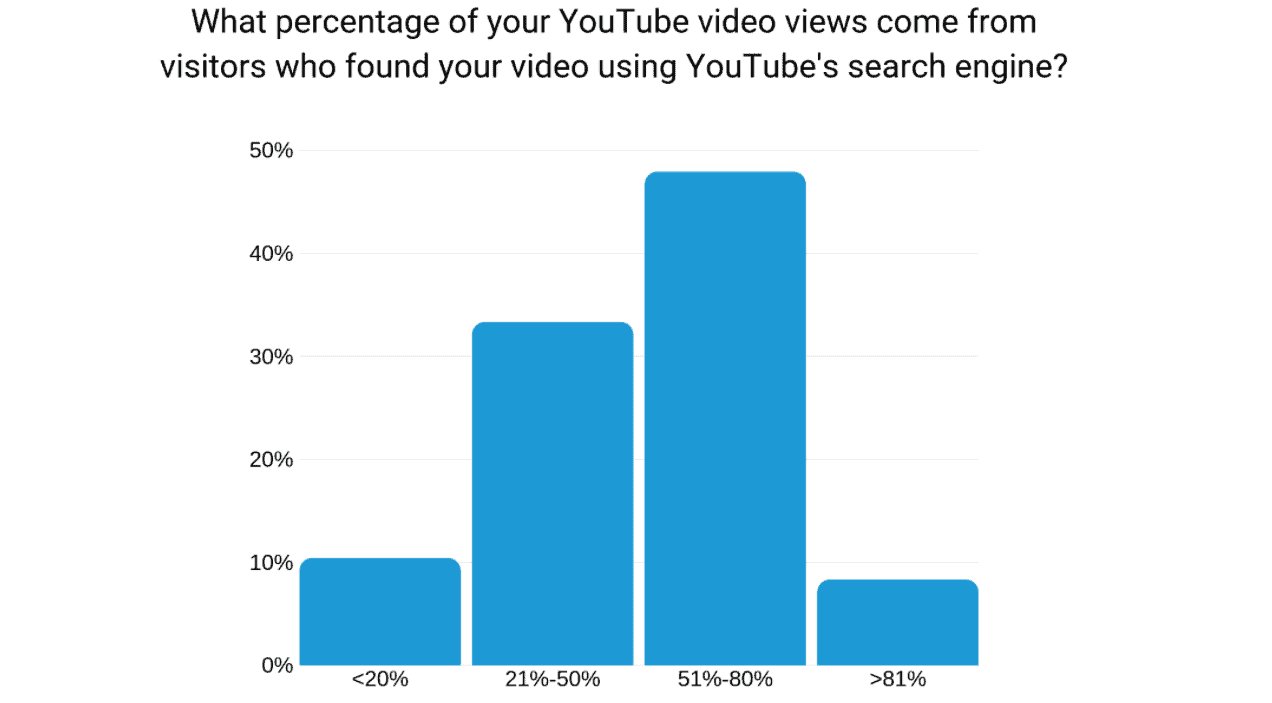 By default, YouTube clues creators in as to the types of content that viewers want. So just type in your search term or keyword into YouTube's search bar and you will be presented with a ton of keywords from actual viewers.
Make a list of these keywords as they are a great starting point for your video SEO research.
Another place to look is on Google. Conduct a search using the same keywords and check which videos rank at the top of Google's results page. Those are likely to be optimized for SEO.
You can also use Google's Keyword Planner tool to find valuable real-world keywords that people are actually searching for.
2. Understand Your Audience's Intent
Once you have your list of keywords, your next step is to identify search intent (or keyword intent). This is the reason behind the user's query in YouTube's search engine. In order to do this, you need to understand your audience.
As in the example above, YouTube does a good job of determining search intent for you.
Simply search for your target keyword and analyze the top 5 results on the platform. Make a note of what they're talking about (both content and angle).
Pro Tip: During your search, use incognito, and ideally, use the VPN for the location where you want to rank.
3. Add a Smart Title and Description
Now that you understand the intent behind your viewers' searches, it's time to put your keywords in all the right places.
Add your main keywords to your title and meta description. The keywords or phrases must describe your video accurately, and they also need to correspond with the words and phrases that viewers search for on YouTube to find content like yours.
Incorporate your main keywords naturally in the areas mentioned above, but don't overuse them in an effort to hack the system. That is unnecessary, and it doesn't work anymore.
4. Optimize Your Tags
Tags are yet another way for you to give context to your YouTube videos. This can help you rank high in YouTube search as well as suggested videos.
YouTube recommends you add keywords that are most descriptive of the content in your videos. This should be pretty easy and straightforward as you have already done the required keyword research and created an optimized title and description based around these keywords.
Use a tool like TubeBuddy or VidIQ to see the tags within competing YouTube videos. You can then add those tags to your own videos when it makes sense to do so.
5. Say Your Target Keyword in Your Video
This may sound like a no-brainer, but it warrants stating. In addition to adding your target keyword to title, description, and tags, you must also ensure that you say it in the video.
Always ensures that you include an accurate transcript since you don't want YouTube's auto-generated captions to mess up your keyword.
6. Create and Add a Custom Thumbnail
Next, you need to create custom, click-worthy thumbnails for your videos. Thumbnails are an effective conversion machine, and when done perfectly, they will increase your video views, bring you higher video conversion rates, and boost your rankings on YouTube.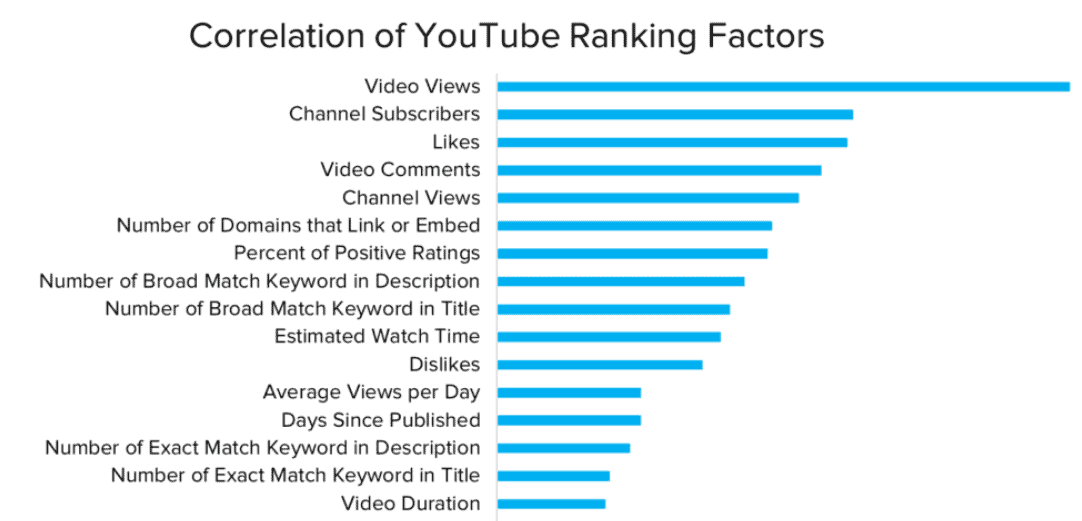 As you can see in the image above, video views are among the most important YouTube ranking factors, and your thumbnails will help you increase that metric.
Ideally, you want to choose a thumbnail image that offers a unique and eye-catching representation of your video's target keyword. Check out this article which goes into detail about all the benefits and best practices for YouTube video thumbnails.
7. Add Captions
One thing you must never do is use YouTube's ASR (automatic speech recognition) captions. They are only 70% accurate, and this can often result in incomprehensible – and sometimes embarrassing text.
Also, using inaccurate captions can result in your videos being labeled as spam and cause you to lose ranking for your entire YouTube channel.
So, in order to combat such detrimental effects, you want to add your own accurate closed captions for each of your videos.
Closed captions are good for YouTube SEO, but they have other benefits, too, such as:
Higher Search Rank
Better User Experience and Engagement
Web Accessibility
…and much more.
One way to create accurate YouTube captions is by starting with the automated transcript and then manually cleaning up the errors and adding time-coding for each frame to synchronize with your video's audio. Another, less tedious way is to use a professional video transcription service.
8. Add a Transcript
This tip is closely related to the one above. Transcription and captioning are two different processes, and each comes with its own set of benefits and uses.
Transcription is the process of transforming speech or audio into a written text document.
Captioning, on the other hand, divides a transcript into time-coded chunks, called caption frames.
Although each has unique properties and typically works uniquely on its own, the two can also work together to make your content more user-friendly and accessible.
Pro Tip: After you've transcribed the video, use the transcript to boost your overall SEO efforts by turning it into a blog post, infographic, white paper, website copy, fact sheet, and various other formats.
You can also translate your video transcript into multiple languages to make your videos accessible to even more viewers and further expand your audience.
9. Optimize Videos for Longer Watch Time
YouTube gives precedence to longer videos. And since watch time is among the most important YouTube metrics that you must pay attention to, it's vital to optimize your videos for longer watch time.
The more time people spend watching and engaging with your videos, the greater your chances are of ranking high and getting more video views.
According to a recent study, there is a direct correlation between watch time and ranking on YouTube.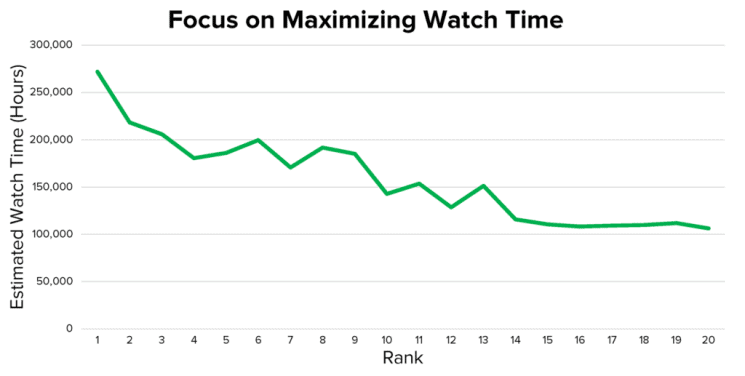 One way to increase your watch time is by not giving everything away too early in your video.
Follow these tips to enhance audience retention:
Use the first few seconds of your video to hook viewers quickly
Leverage pattern interrupts to keep your viewers engaged
Use cards to encourage viewers to take some sort of action
Make your ending count by adding end screens that show related content
10. Turn Your Videos into Binge-Worthy Playlists
Once you have a set of related videos that go together, turn them into a playlist to create a better experience for your viewers.
This will allow them to easily access content on the topics that they are interested in without having to search for and click on them.
Video playlists also make it easier for you to organize your content on your channel and it allows you to amplify your marketing efforts and share multiple videos at one time using one link to a playlist, as opposed to a single video.
Conclusion
Use the tips in this article to help you avoid falling through the cracks of YouTube. Implement each of them and watch your videos rise in YouTube search and recommendation rankings.
Do you know of any other YouTube SEO tips that you can use to get your videos to rank higher? Let us know in the comments section below!
---
About the author: Jet Saini is the owner of DripDigital.com – a popular Digital Marketing blog that publishes detailed tutorials that focus on helping people to build and run a successful online business. He started his blog in 2018 and since then has helped hundreds of people reach their marketing, blogging, and SEO goals.