When your potential customers land on your profile – Instagram bio is the first thing they see. If you don't grab their attention immediately – they're going to leave, forever.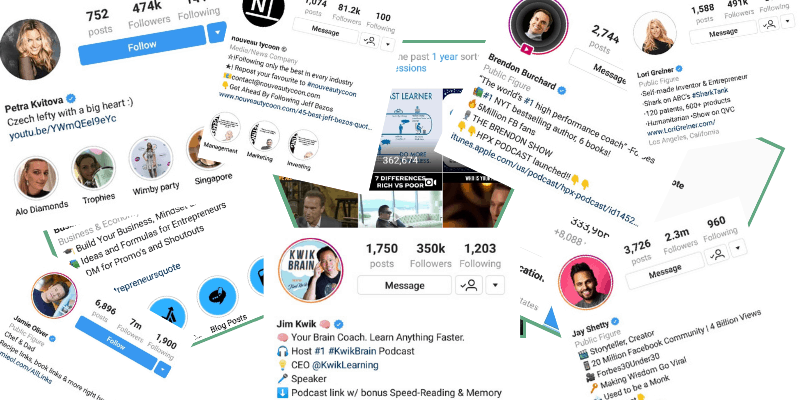 Before you start growing your following on Instagram – you need to realize that:
Strong foundation and first impression are crucial for your business and brand.
In this complete guide, I'm going to show you:
#1: How to craft compelling bio to attract your target market
#2: How to craft an Instagram bio that forces visitors to click on your link (website, sales page, newsletter, store..)
#3: How to choose the right username that will help you to grow your account
#4: How to choose an outstanding profile image
#5: How to set up and track an Instagram BIO link
At the end of this guide, you will be one step closer to turning visitors into raving fans.
Want to get the hashtag strategy that brings me 11,000 impressions per post?
Get The Ultimate Instagram Hashtags Cheatsheet
Download now!
50% Complete
Get The Ultimate Instagram Hashtags Cheatsheet
Attract the right people to your profile using Hashtags on Instagram
100% Privacy. We will never spam you.
100% Privacy. We will never spam you.
….
Let me say this out loud – Your Instagram bio is probably the most important part of your Instagram.
I can't believe how many people don't put the work into creating a compelling bio and wasting a lot of time working on advanced strategies even though they didn't do the first, the most important step.
If someone visits your profile, you want them to click on the link in your bio.
That's the only way how to get more traffic for your web and business, how to generate more leads, customers, and profit…
Because this is the only place where you can put a clickable link on Instagram. (You can't put it in the caption of your posts)
Note: Since last year, you can include a clickable (swipe up) link on your stories as well, but only if you have 10,000 followers – I've written a detailed guide on how to use this feature even if you have fewer followers and Instagram doesn't allow you to use this feature.
But they have to have a reason to click on that link… And that's the message in your BIO.
That's why you need to make it extremely compelling.
You are only allowed to use 140 character limit and
I'm going to show you some great examples of how you can use that Instagram bio space.
Some real example from big, successful accounts as well.
The simple, but effective formula on how to create a BIO.
What exactly include in your Instagram BIO
I'm going to give a couple of proven Instagram bio templates
If you put effort into this lesson, you will set up your Instagram account for massive success!
Formula #1: problem question + answer with CTA to your link
Let's say you teach people how to start an online business.
A great example would be:
'Want to start an online business but don't know where to start?' Get OUR FREE step by step guide! ???
So question that most of your audience has + answer that forces them to click the link in your bio.
This formula works extremely well.
Another example would be:
Do you want to learn to programme but don't know if you have what it takes? Grab our step by step mini course for absolute beginners! (arrows)
Formula #2: 'we help people to do X – Grab our guide on X.'
I had been trying this formula for two weeks and got more than 600 people subscribed to my email list.
Here's how it looked on my profile:
We help people grow PROFITABLE Instagram following. NEW Checklist: Five Steps to Grow Your Instagram Like Wildfire ???
Formula #3: If you sell physical products
– Use the key benefits people will get from your products or your page (let's say you sell health supplements, you can write something like – energy, immunity, detox, weight loss….)
– Point out if you're selling only for certain country, continent or worldwide
– Give them CTA (call to action) example: 'shop here by clicking the link below.'
Formula #4: Use dot points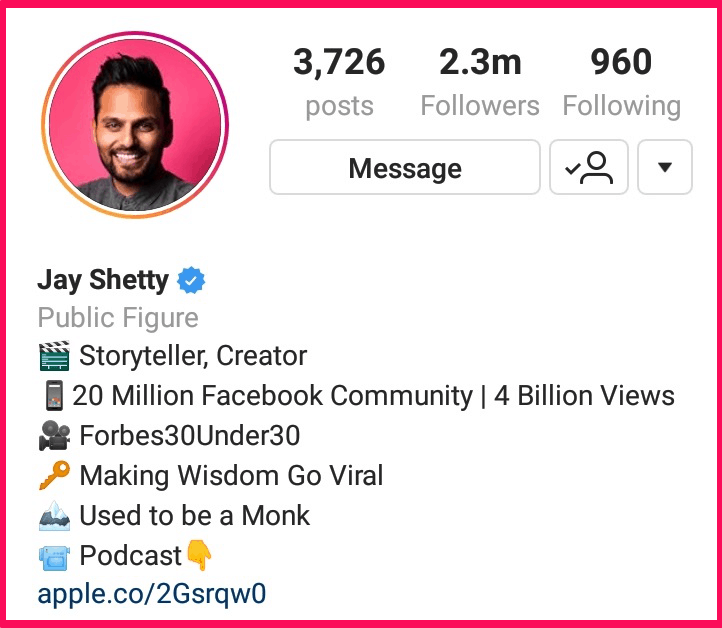 Use ones that are short, clear, communicate to your target market and have a clear CTA.
Bonus tip #1: Use emojis – Emojis takes less space than words. You can tell much more about you/your brand using emojis, it helps to get a fresh look for your account as well.
You can emphasize your key lines with emojis & you can combine words and emojis. Use emojis that are relevant to your brand.
Bonus tip #2: Branded hashtag

Booking is doing a great job with their branded hashtag in the BIO. They encourage their users to share photos from the rooms they rented and use the hashtag #bookingyeah. It helps spread the word about booking and the users have a chance to get different bonuses and discounts.
Action Item #1: Write at least two different BIO's using formulas above
Action Item #2: Use one bio for a week and then the other, measure which brings you more clicks and sticks to it
Action Item #3: Incorporate emojis and create a branded hashtag (if that does make sense for your business)
How to choose Username and Name of your profile + Bonus trick
Alright, in this part I'm going to teach:
#1: A great trick on how to optimize your name + username to get additional exposure for your profile
#2: How to rank for a certain keyword that might bring you a lot of targeted followers
As simple as this trick is, the results can be fantastic, you are going to love this!
You need to have a solid username, MEMORABLE and CATCHY!
Next, it's highly recommended to have all of your images branded.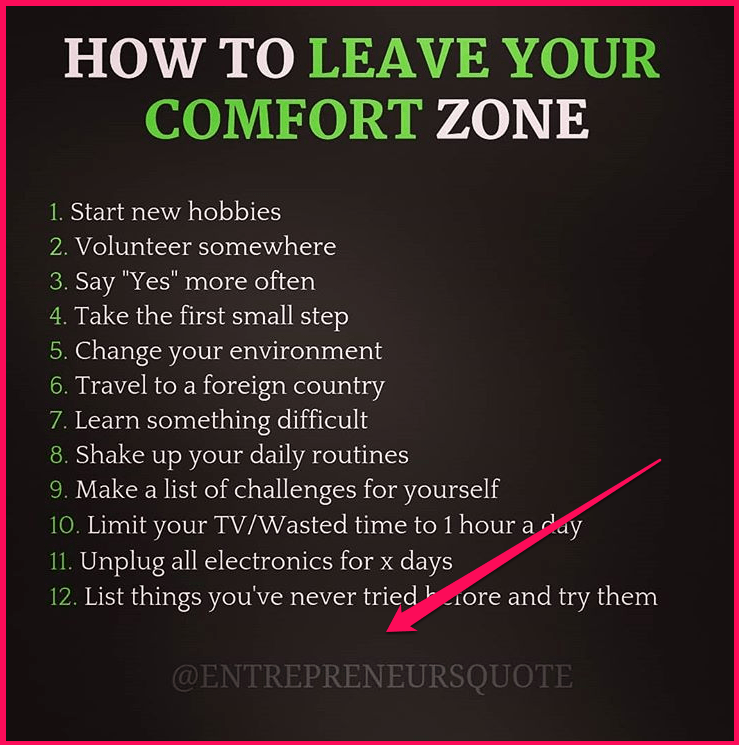 My business magazine WeekHack has username WeekHack, simple as that. It supports branding; it's memorable, it's short and clear.
A lot of people found your Instagram from your other profiles(Facebook, Twitter, etc..) so be sure to have the same or similar username everywhere.
You would be surprised how many businesses have a different username on every platform; it's a big mistake.
My opinion is that a consistent username is a must.
That was about username; now I'm going to show you what should be your name and give a great example of how one little tweak is bringing me 1000+ followers every month.
Take a look at my account 'entrepreneurs quote'.

After I had changed the name of my account in the Instagram BIO to 'Business & Entrepreneur,' some magic happened.
Immediately after the change, I noticed a big spike in new followers.
So I decided to find out what happened. It is simple.
Whenever someone typed 'business' or 'entrepreneur' into Instagram, Instagram showed me in the results on the first page = a lot of new followers daily just because I have chosen the right name.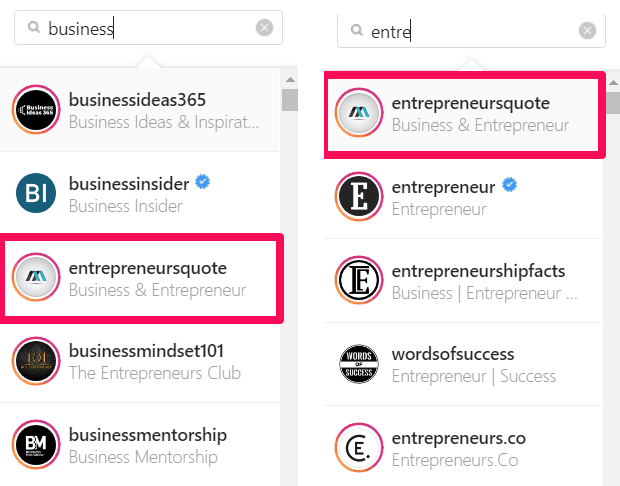 If you have a few followers, Instagram will not feature you, but be sure to set up your profile the right way from day one!
So, what is the best name? It should represent what you are up to, and it should be a relatively generic term.
(Chocolate, diet, fitness, business, entrepreneur, lifestyle, luxury, travel, etc…)
Tip: If you have a low number of followers, try to use something like 'paleo diet, white chocolate, home business, etc..)
Brainstorm a few ideas and try to use them for a week and then analyze the results….
You can change your name by clicking on 'edit profile' and change the 'name'… Easy Peasy 🙂
Even though these steps look simple, give it a time to think about them.
It can give a huge momentum right off the bat.
This little hack can make a difference, it's worth it.
If you don't, you're missing out the chance of people finding you.
Action Step #1: Choose a username that is clear, memorable, reflecting your topic, that is the same as on your other Social Media channels and include some keyword
(ex: entrepreneursquote)
Action Step #2: Find the generic name of your profile that reflects your brand and most importantly include your desired keyword
How to choose a profile image for Instagram BIO
Don't forget; you're not building a just Instagram account, you are building your brand.
When somebody visits your page for the first time, whatever profile picture you have, whether it's your business logo or your selfie, it's your branding.
Remember, Instagram is a visual platform.
You want to have a nice-looking logo.
Even if you have a logo from other Social media platforms, be sure to think about it.
You may want to upgrade your current logo to look better.
There are service like 99 design, Elance, Odesk, Fiverr (Fiverr is the cheapest choice, you can buy an amazingly looking logo for $5)
Be sure to check those site and see some examples of what the sellers made in the past; you may be surprised how cool logo you can buy for a very low investment.
The logo is one of the deciding factors when somebody comes to your page; they're going to decide whether to give you a follow or not.
You can be sure that if you have an ugly logo, people will go away from your profile.
Do you have a business logo, do you have a super cool selfie?
That depends on what kind of account you want to create – is it a business account or a personal one?
If you want to build a personal brand, for example, check out Gary Vee's account, Tony Robbins, Oprah, Marie Forleo.
On the other hand, if you want to build a business account, I posted some cool business logos below.

Remember, you do not want to confuse your potential followers, the logo should be clear, professional, nice-looking and if possible, reflecting what you are up to.
One of the most important thing about branding is to be consistent.
What does that mean?
If you have a Facebook page, Google+ page, Twitter, etc… Be sure to have the same logo on all of those platforms.
If you have a different logo on Instagram than on Twitter, it can confuse your followers. That's not what you want…
Action item #1: Decide if you want to build a personal account or a business account
Action item #2: Use the logo for all Social Media Platforms(Instagram, Twitter, Facebook, Pinterest, etc..)
Action item #3: Decide if your logo needs an upgrade or not (remember, just go to the sites I mentioned above and see some examples)
It sounds like an obvious thing, but most of my students actually need to upgrade their logo!
Setting up and tracking your Instagram BIO link
I'm going to show you two simple tools you can use to track your clicks.
Keep in mind, that tracking performance of your BIO link is extremely important for you, because remember that you can't manage what you can't measure.
Also, you want to set up a link that doesn't look spammy, because people will not trust you and click on such a link.

Remember, in your Instagram BIO is the only place where you can put a clickable link, and you want to be sure that people are visiting your profile actually clicking on that link and also, you want to know how to link + bio perform.
That's why you need to track the clicks.
The link from my profile is pointing to this landing page where people can sign up for a free email course.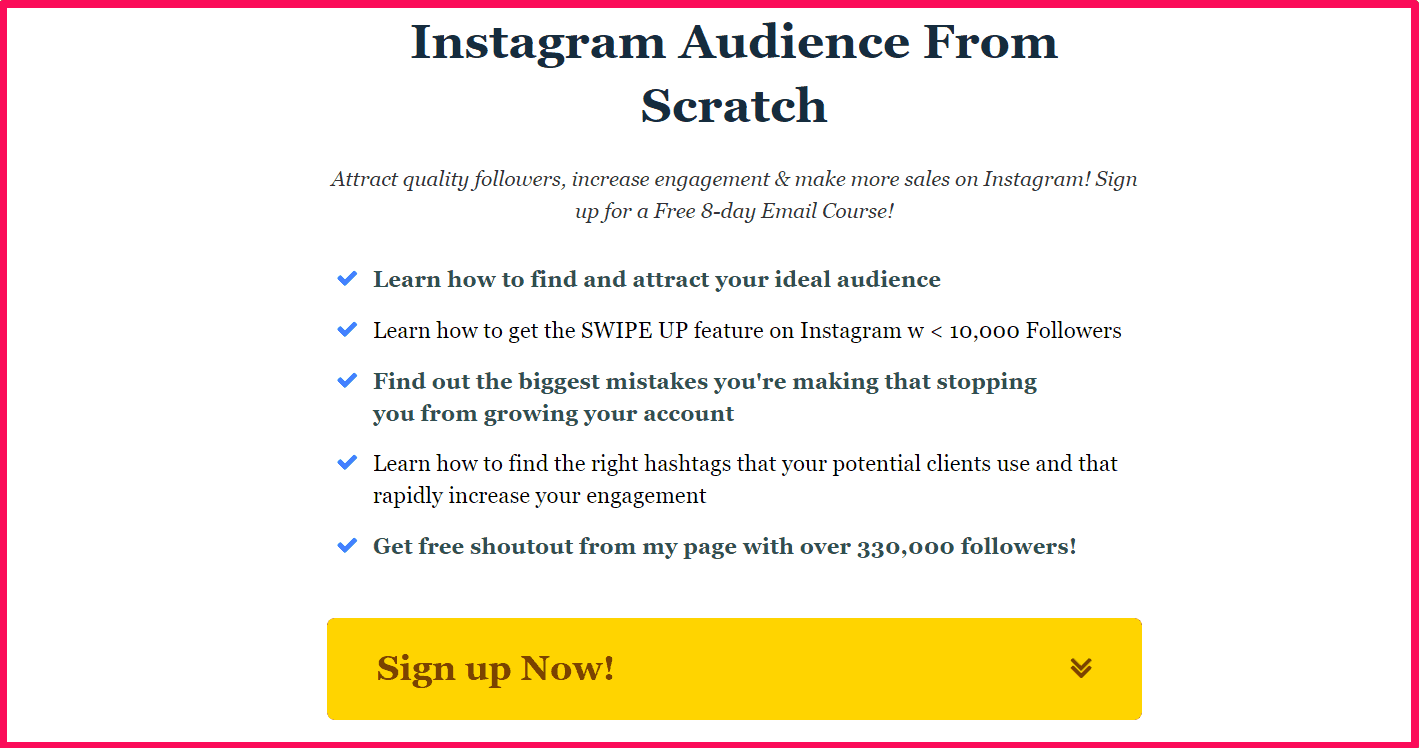 I know this landing page is converting very well, so the more people click the link, the more people join my list…
As you can see, the link looks very nice (https://www.instauniversity.co/course)
Option #1: I have been using WordPress called 'Pretty Link' (if you are not a WordPress user or even don't know what is WordPress is, it's ok, just continue below for the other option (bitly link)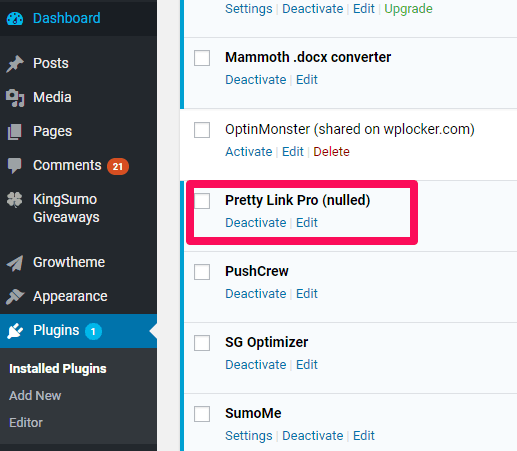 #1: Install WordPress plugin 'Pretty Link' and click 'activate'
#2: Click 'Add a Pretty Link'
#3: in the 'target URL' put URL to your landing page, sales page or a blog
#4: and then decide what the link is going to be (yourdominain.com/somethingcool)
#5: click 'Create' and you are done.

That's pretty much it; this is the way how I make my links looking good and track them.
Option #2: You can use a FREE tool called Bitly
All you have to do is just copy and paste your target Url and type it into the box and it will shorten the link.
Be sure to customize that link (remember, you do not want to look it spammy)
Now you can click on that 'stats' and see how your links are performing, from they are coming from, where are based the people who are clicking on the links, and much more…
That's how you can make nice looking links and track their performance as well.
Action Step #1: If you are a WordPress user, install a plugin called Pretty link and create your first nice looking link
Action Step #2: If you are not, go to Bit.ly and create a bitly link
Final thoughts
You Never Get a Second Chance to Make a First Impression – I'm sure you heard this phrase before. It applies for your Instagram as well. Even though Instagram BIO allows you to use only 140 characters, there are a lot of elements you can use.
Bonus tip: Do you want to gain the immediate trust of your potential followers? Get the verification blue badge. It's a sign that your account is real and represents a recognized brand or an influencer.
Want to get the hashtag strategy that brings me 11,000 impressions per post?
Get The Ultimate Instagram Hashtags Cheatsheet
Download now!
50% Complete
Get The Ultimate Instagram Hashtags Cheatsheet
Attract the right people to your profile using Hashtags on Instagram
100% Privacy. We will never spam you.
100% Privacy. We will never spam you.
There's a lot of room for testing and shaking things up. If you follow at least one tip from this ultimate guide to Instagram bio – you're one step further than your competition.
Make sure to create at least 2-3 completely different BIO's and test it, measure it, analyze it.
Find out what resonates most with your audience and stick to it.