We all make mistakes.
I'm guilty of this, too.
But I learned from those mistakes and errors that prevented me from growing my profile at the beginning.
It took me years to figure them out.
The result? A few days ago, My page @entrepreneursquote grew to over 1,4 million followers
I don't want you to do the same things that hurt my profile in the beginning.
I want you to correct the things you're doing wrong.
Remember, it's not too late to adjust your Instagram strategy.
I'm going to show you the most common mistakes and provide a solution to each one of them.
Want to get the hashtag strategy that brings me 11,000 impressions per post?
Get The Ultimate Instagram Hashtags Cheatsheet
Download now!
50% Complete
Get The Ultimate Instagram Hashtags Cheatsheet
Attract the right people to your profile using Hashtags on Instagram
100% Privacy. We will never spam you.
100% Privacy. We will never spam you.
1.Boring description or no description at all
Finally, someone found you on Instagram and decided to click on your profile.
Now you have about two or three seconds to attract their attention. If you don't, they leave and will never come back.
Your description is the first thing they see.
So, what is the formula for a top-notch description?
It's not about you; it's about how you can help your target audience in one sentence
It's not boring (try to include at least a few emojis)
It includes a CTA that tells people to visit your website/landing page/sales page
The worst scenario is not having any description at all. This makes you look like you are not serious.
You can include only 150 characters in your bio.
Use them all.
Be creative.
Be authentic.
Be funny and serious at once.
2. There's no link in your BIO to drive traffic to your website
Let's be honest for a moment.
If you're not sending people to your website or offer
You're not growing an email list
You don't get any new customers
You don't make any money.
You don't grow your business
That's bad.
This is probably the biggest mistake you can make.
The only place where you can put a clickable link is in your BIO – use it!
Instead of placing a link to your blog/store/sales page – place a link to your landing page – building an email list should be your #1 priority.
Tip
Make sure your link doesn't look spammy.
weekhack.com/checklist – good one
bit.ly/t4s5f4ge55d6w4 – bad one
3. Not being consistent
Many people are asking me why they're getting only a few followers per month.
When I explore these accounts, most of the time they publish 5-10x images/per month.
In the worst-case people get excited, and start posting three times a day, then only one time per day, and after a month, once a week.
This is a horrible mistake!
Your followers will notice you're not serious. They will forget about you and why they started following you in the first place. Instagram algorithms recognize that behavior and decrease the exposure of all your posts in the future. You can say goodbye to the explore page!
The solution?
Decide whether you want to publish 1x or 3x a day and stick to it!
It's not hard to put together thirty images at once and schedule them in advance for next month using a tool like Grum.
4. Not using hashtags or just a few of them
Hashtags are a big part of Instagram.
If you don't use them, you lose a lot of potential exposure for your account.
Instagram allows you to post 30 hashtags under each image/photo.
Most people make the mistake of not using them at all or just using a few of them.
Use 28-30 for each of your posts!
Tip
Do not post them in your caption, but in the first comment under your post.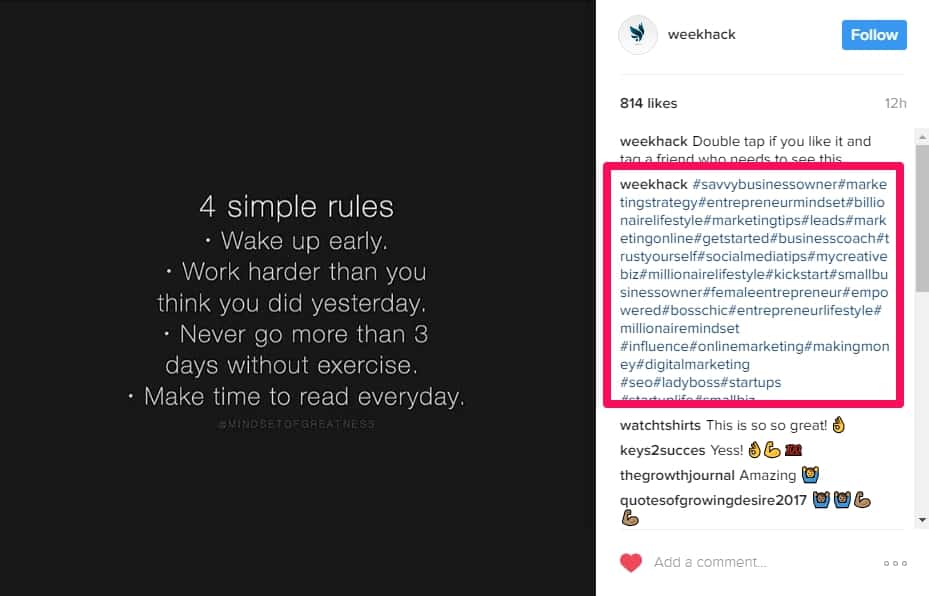 As far as hashtags go, there are a few rules to keep in mind.
Hashtags should be:
Relevant to your ideal audience
As short as possible
Popular
Researched by your ideal audience
Tip #2: Do not use generic ones like #motivation #success, etc…
Use hashtags that have 20-300k images per hashtag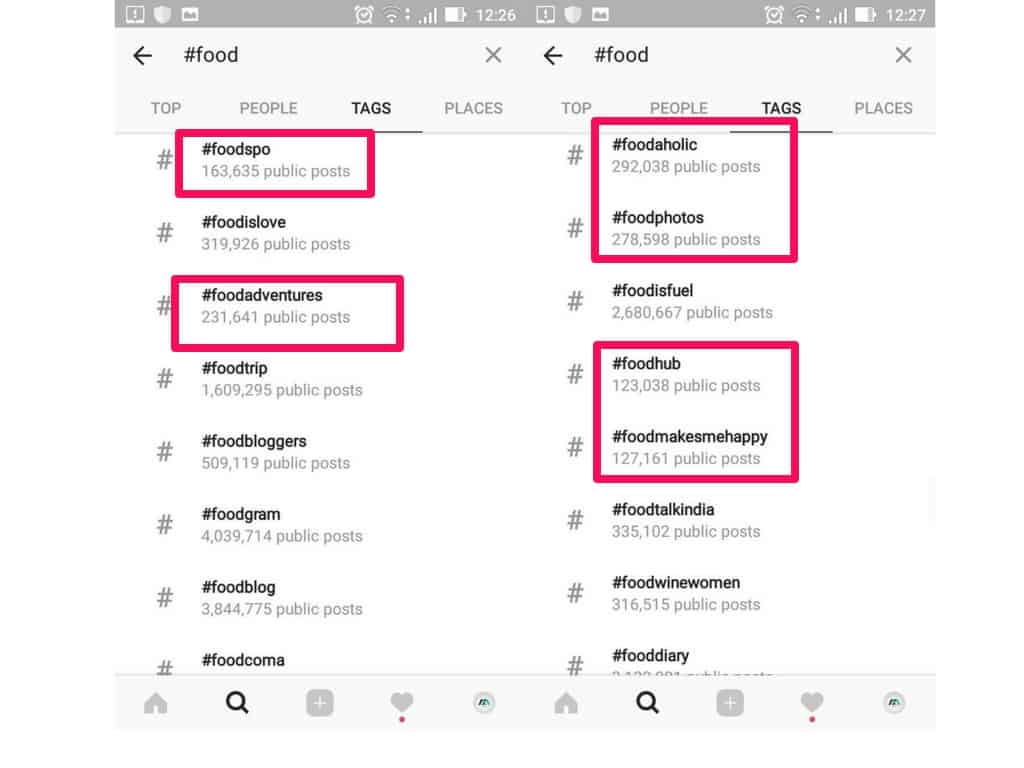 5. Photos with the crappy resolution are a big no
I know it sounds silly, but each of your images should be top-notch quality.
When I was starting out, I read the phrase – 'the higher the resolution, the higher your level of professionality' – it's 100% true all the time.
6. Not having Clear 'Call to Action' in your posts (caption)
Whether you post a photo of your team, motivational quote, selfie, or whatever.
Each photo should have a specific purpose. A specific call to action.
It can be something like:
Subscribe to our E-mail list to get this [freebie/bonus]
Tag a friend
Like this if you agree
Visit our website to get a discount
Meet people from our team
Buy our product
Join our contest
Leave a comment
7. Not using GEO-tags for an engagement boost
Whether you have a local business or just visiting a conference or a summit, Instagram allows you to include a geo-location tag telling your followers where you are at the moment you published.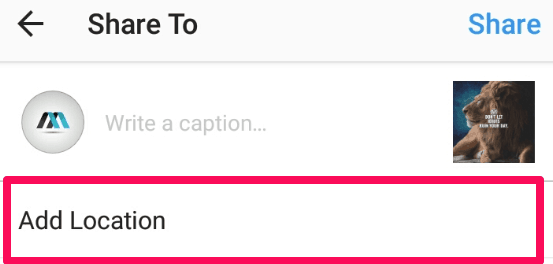 There's a study proving that posts using a geo-tag get 79% more engagement.
8. Not responding to comments
Imagine, you are at a conference, someone starts talking to you and you are going to completely ignore that person.
Do you think they will come to you again? Probably not.
It's the same on Instagram. When someone spends the time to create a meaningful comment – he deserves a response!
That's how relationships are built.
It's not that you have to spend a lot of time creating amazing answers, just be grateful and let them know you noticed their comment.
9. Not responding to direct messages
I've received all kinds of different direct messages. Some people just say thanks for my inspirational content, some of them offering share for share, some of them ask questions about
business/marketing
How do I create beautiful images
How to get more followers
What software I've been using
Some of them want to buy a shoutout from me…
The point is – thanks to DM, I've connected with dozens of my followers, turn many of them into email subscribers and customers, sell a bunch of shoutouts each month…
10. Expecting followers to just come to you
Unless you already have a huge following or well-known brand, there's no way potential followers can find you without you doing the work.
I've covered a bunch of ways on how to get laser-targeted followers and step by step guide showing you how to get 100 followers in 24 hours.
It's up to you to get the ball rolling and start growing your following.
11. You sell more often than provide value
There's a rule of thumb that for every five or six posts providing value you can publish one Product push (promo post). No more. I've been calling promo post – Product Push. That's when you publish an image representing your product/service/course asking your followers to join.
I've learned this rule from Gary Vaynerchuk's book Jab, Jab, Jab…
It's simple. When you post this kind of promo more times
You push away your followers
Promo posts receive less engagement than normal stuff = Instagram will decrease your chance on the explore page
12. Too many selfies
Once in a time, there's nothing bad about publishing some funny selfie to connect with your audience on a personal level, but don't overdo it. (If you are not somebody like Kim Kardashian)

That being said, always try to post as much relevant content as you can. It's not about you, it's about them.
13. Don't turn away your audience with irrelevant content
Remember, You're growing an Instagram audience for your business, for the purposes of making money, eventually. It's not your personal account on Facebook.
It doesn't matter how cute your cat is or the little hippo you found on Facebook.
Don't publish these things no matter how sweet or cute they are.
14. Running contests without an audience
Contests are great. Contests can bring hundreds, sometimes even thousands of followers – if they're hosted the right way.
But if you have no audience on Instagram, Facebook, and no email list – it's not going to work. I've seen experienced marketers host successful contests without an audience on Instagram, but the only reason why it worked was that they had a huge email list.
Without it, don't host contests. Wait until you grow your account to at least a few thousands of engaged followers.
15. Being more salesy than a car salesman
There's one thing that's happening each day and that's irritating like hell. Every time I publish a photo on Instagram – someone writes a comment like
Follow me, I will follow you back
Please, give me a shoutout
Click the link in my BIO to learn [something]
Check out my amazing Shopify store
It's ok to encourage your followers to do these things under your promo post… But don't spam other's people profiles!!!
16. Following more people than follow you
I guess you heard about a popular strategy (a little bit controversial), but I love this strategy. Find where your ideal audience is hanging out, follow them and some of them will follow you back. If you do it the right way – it works!
But, as always, there's a big BUT. If you're just starting out you can easily follow 10x more people than follow you – it looks bad, spammy.

The solution? Follow a thousand, wait a few days, unfollow those who didn't follow you back, and start all over again with following new people.
Tip: This strategy works even better when your account is verified. You're being immediately seen more trust-worthy.
17. Your photos have the wrong size
If your images don't have the right size, they will be cropped by Instagram. It doesn't look well. Make sure that the shape is always square!
The right size is 1280px by 1280px.
In case you have to post non-square images, there are Instagram tools and apps like 'Instasize' that help you to properly size the images for Instagram.
18. Long & Boring description
I bet you've seen a really beautiful/cute image, clicked on it and there's a description long as hell.
I'm not sure why people do this, but please, don't write essays in the description (caption) of your images. It just turns away potential followers.
19. Not doing share for share
Share for share has been popular for years on Instagram. It works simply by publishing an image and encouraging your followers to check out the other account (in the caption) and the other account does the same for you. It's a win-win situation.
Tip: Find seven different accounts, put together a share for share group and start doing s4s regularly will all of them. On the first day – all seven accounts will give a shoutout to you, on the second day all account give a shoutout to another account, etc…
This one is definitely one of the best strategies to put into action if you want to get more followers on Instagram.
20. Delete images with low engagement
There are dozens of different factors that affect how much of your fans/followers see your images, whether Instagram places your post on the explore page, whether you get enough engagement in the first hour after publishing, etc…
One of the factors is how much engagement your last 12-24 images received. Let's say 10 of the 12 images received over 500 likes and 15 comments. 2 of the 12 photos got less than 200 likes – delete them as soon as possible. It will help you to grow faster.
Want to get the hashtag strategy that brings me 11,000 impressions per post?
Get The Ultimate Instagram Hashtags Cheatsheet
Download now!
50% Complete
Get The Ultimate Instagram Hashtags Cheatsheet
Attract the right people to your profile using Hashtags on Instagram
100% Privacy. We will never spam you.
100% Privacy. We will never spam you.
21. Posting at the wrong times
Don't publish when your followers are offline. It's as simple as that.
This is different from business to business so I can't tell you the best time to post.
But I can show you how to find out when most of your followers are online.
In order to do that – You need to have a business profile (don't worry, everyone can switch to a business profile and vice versa).
Step #1: Go to your Instagram app
Step #2: Click options
Step #3: Click to 'Switch to Business Account'
Step #4: Click the icon 'analytics' (next to your username)
Step #5: Scroll down until you see 'Followers', click 'See more'
Step #6: Once again scroll down until you see when most of your followers are online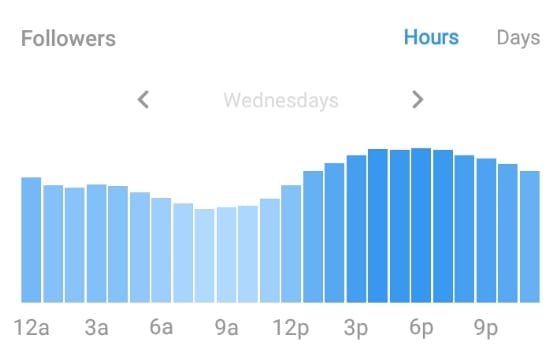 ---
If you're serious about marketing on Instagram, if you want to get more followers on Instagram – keep these mistakes in mind and avoid them at all cost.
Let me know in the comment section below what mistake you are going to fix first.